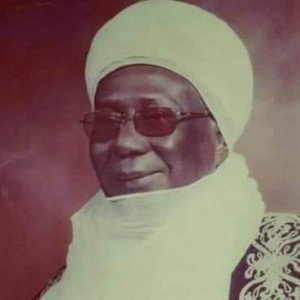 Ibrahim Dasuki; Sultan of Sokoto from 1988 to 1994. Dasuki mounted the throne despite stiff opposition from supporters of his cousin, Muhamadu Maccido. Like it happened in 1933, an outside power eventually decided the outcome of the contest. General Sani Abacha who despised Dasuki came to power and deposed him, drove the Sultan into exile and installed Maccido in his place[i]. Only some months before his 73rd birthday in 1998, Ibrahim Dasuki was dethroned in 1994 as the Sultan of Sokoto by the Military government of General Sani Abacha and banished to Jalingo, Taraba State by the government of Sokoto State. He was placed under house arrest for years, released from house arrest and banished into exile in Kaduna by General Abdulsalami Abubakar in 1998.
Places of Growth
Ibrahim Dasuki was born 31 December, 1923 in Dogondaji, Sokoto State.
Family
Dasuki's son, Sambo, was declared wanted in connection with the alleged coup plot of 1995 against Abacha's military government. Sambo was Babangida's aide-de-camp.; a brilliant colonel of the armoured corps. Speaking as the head of the Supreme Council of Islamic Affairs, SCLA, Dasuki lent his voice to the pleas for mercy.
Education
From a humble beginning at Quranic School, Dogondaji, Zamfara State where he went 1921-30; Elementary and Sokoto Middle Schools, 1931 -35. Dasuki displayed sterling qualities at Barewa College, Zaria, 1940-44, afterwhich he travelled out to study at the University of Oxford, England, 1955-56.
Experience
Dasuki became clerical officer and cashier at the Gaskiya Corporation Kaduna, GCK. Ahmadu Bello, the Premier of defunct Northern Nigeria appointed Dasuki his administrative assistant and private secretary between 1953-56. For performing creditably under the Premier, Dasuki was appointed the secretary of the former Northern Nigeria Executive Council between 1957 and 1958. However, in 1958, he became a diplomat and was posted to the Nigerian embassy in Bonn, West Germany, where he worked for two years. Later, he worked as well as Head of Chancery and first secretary, Nigerian embassy, Khartoum, Sudan, 1960-61.
In November 1988, following the death of Sultan Abubakar III, Dasuki was enthroned as the Sultan of Sokoto although in controversial circumstances. Since then he has lived quietly in Kaduna[ii]. Relationship with Abacha which was strained since the 1991 installation of Alhaji Abubakar Alhaji as the Sardauna of Sokoto came to a head with the dethronement of the Sultan. At the event of 1991 where Abacha was the official representative of Head of State, General Babangida, Dasuki's decision to continue with the ceremony in Abacha's absence was considered by the soon to be Head of Sate as disrespectful[iii].
[i] Tell 26 July, 2004
[ii] Tell 5 January, 2004
[iii] The News 11 September, 1995