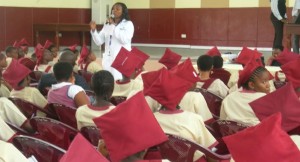 Holy Child College Ojo street, South West Ikoyi, Lagos., was established 1945 in Obalende, Lagos by the Society of the Holy Child Jesus. Leo Taylor, the Catholic Archbishop of Lagos had invited this group with the aim of providing education for girls.
School campus evinces careful planning, with the lawns and well-lined Plam trees. Library and the science laboratories are serviceable, like other facilities of the school, which are well-designed but surprisingly lacking in opulence.
The British-based alumni of Holy Child College launched an ambitious project in September 21, 2013 in London, which may lead to the refurbishment of the entire school.