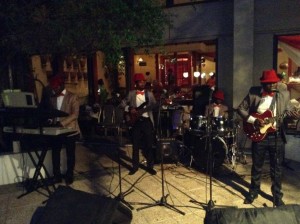 Highlife is the folkloric popular music originally derived from the traditional Ghanaian Akan music. With the infusion of jazz and the use of horns such as saxophones and brass wind instruments, plus many guitars, the music became popular in Nigeria from the mid-20th century. In Ghana, it was called high-life because it was enjoyed mostly by high public officials and others who could afford ticket to the concerts, and who attend well dressed. While Rock and Roll was gathering momentum in the foreign scene, leading to the era of Elvis Presley, the formative process of Highlife were taking place in Nigeria. Quickly, it was blended in different corners of the country with ethnic tunes. The highlife became, and still is, the music genre played on special days in hotels by guest or resident bands.
 
Colonial era
While the likes of Asare and group were pioneering Palmwine Highlife in Ghana, Okwonko Adigwe, Ishie Brothers, Paul Ede were making some impact as Palmwine stylists. But orchestra highlife of the Dance Band type was introduced to Nigeria in 1953 by the Tempos band led by ET Mensah eventhough, dance bands were already on stream among them Bobby Benson Jam sessions, Sammy Akpabot Sextet and others. However, Bobby Benson was the first to be influenced because he had a formidable band with an array of trumpeters and saxophonists that included Chief Bill Friday, Eddie Okonta, Jubril Isah, Baby Face Paul among others. Taxi Driver was Bobby Benson's first highlife hit.  Then came Victor Olaiya, Chris Ajilo with a string of hits, but at independence in 1960, Olaiya's highlife was the most popular. His All Star was Nigeria's official band for the state ball.
 
 
Independence era
Roy Chicago came into reckoning in the highlife scene in 1960, making a lot of impact with singer Tunde Osofisan, but Rex Lawson dominated the Nigerian highlife scene of the early '60s till 1965 when Fela Anikulapo Kuti, then Fela Ransome Kuti, revolutionized the scene with his Jazz fusion. He was not to become popular until 1971 when his music transformed to Afrobeat. Victor Uwaifo re-emerged  in 1965 with a long stint with E.C. Arinze also emerged in 1965 with an approach that was stepped in Edo culture. He immediately became popular with the release of Joromi, a highlife variant he called Akwete. In the '70s, highlife transited from the conventional orchestra pattern to vibrant guitar music at the end of the Civil War. At the head of this new revolution were the Oriental Brothers, Ikenga Super Stars, Nico Mbarga of Sweet mother fame among others. By the '70s, Fela Kuti had taken highlife to Afrobeat with Jeun koku, creating a new African sound characterized by a steady rhythm, hard driven organ and progressive horn movements. Afrobeat disciples continue to battle to find their feet in the process of structuring credible sound identity for themselves.
 
Decline & Re-emergence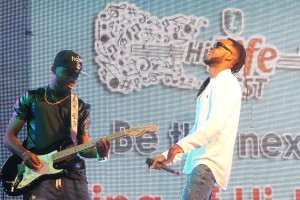 Highlife was consumed by Juju and Fuji music in western Nigeria, and it generally suffered in the east due to the civil war which trapped many great musicians of Igbo origin who had created a formidable subgenre through its infusion with igbo traditional music.  Efforts were made at the beginning of the new millennium to revive highlife in order to free Nigeria's cultural invasion.  In 1999, the Goethe Institut staged a highlife party. Although highlife temporarily lost its popular appeal during the civil war to soul music which was to dominate the Nigerian popular culture for another decade at least, highlife made a comeback with contemporary singers like MC Loph, J Martins and Flavour N'abania who took their inspiration from regional legends to produce a kind of highlife that is commercial and urban.
Great music of the Millennium by Benson Idonije The Guardian Newspapers January 1, 2000.