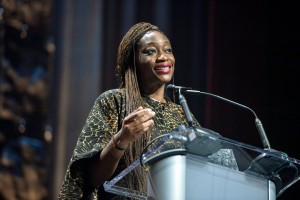 Hasfat Abiola; social entrepreneur and activist daughter of Nigerian politician and philanthropist, MKO Abiola. Hasfat was born 1974 in Lagos. Her secondary education was in the University of Lagos Staff School, and Queen's College, both in Yaba, Lagos. She was in Harvard College for a Bachelor of Arts degree in Political Economy with special concentration in Development Economics, graduating in 1996, just two days after her mother's assassination. Her mum, Kudirat Abiola was killed on 4 June apparently due to her campaigns in support of Hasfat's father who was been incarcerated for holding on to his mandate after the June 12 1993 presidential election won by him.
Following her mother's assassination, Hasfat began organizing protests outside Nigerian embassies. To keep the legacy of her mother alive, she founded KIND in 1997, a group that trains female leaders and raises awareness of domestic violence. Also, she helped found the State of the World Forums Emerging Leaders Program and Global Youth Connect. Hasfat serves on the boards of a number of youth and female empowerment organizations. Between 2007-09 she took a Master's degree in International Development at the Tsinghua University, Beijing, China. While there, she set up a forum to promote mutually beneficial cross-cultural collaboration between China and Nigeria.
In 2013 Hasfat was appointed a Special Adviser to the governor of Ogun State with responsibility for the Millennium Development Goals office. Through her activism and speechmaking, Hasfat continues to underscore the legacies of her assassinated mother and that of father who died in 1998 under confinement by the Nigerian military government. She is married to Nicholas Costello, a British Diplomat.