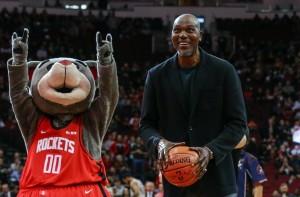 Hakeem Olajuwon; Nigerian born American basketballer who holds the record as the NBA All-time Rebounds Leader. Hakeem Olajuwon is ranked as number seven overall in the All-time Points Leaders. In the citation of Less Alexander, Houston Rocket's owner, Olajuwon was described as the greatest player in the club's history.
 
Childhood
Seven-feet tall Olajuwon never played basketball until he was 17. He showed a commanding performance when he joined the team that represented Nigeria at Africa's Under-18 Junior Championship in Angola. Even though the Nigerian team could only manage a bronze medal in the competition, he was voted the most valuable player, MVP, of the tournament. That became the turning point of his career.
 
Motivation
Christopher Pont, the American coach of Central Africa Republic, one of the countries that defeated Nigeria in the tournament, was he who advised Olajuwon to seek admission to a university in America.
 
Education
Olajuwon studied at the University of Houston, where he also played basketball for the college team.
 
Contemporaries
Olajuwon shares a place in the hall of fame among the very greats in basketball — Michael Jordan, Kareem Abdul-Jabber, Charles Barkley and others.
 
Basket Ball
Hakeem led the University of Houston Cougars to the finals of three seasons in a row: 1982, 1983 and 1984. Again, though his college team did not win in the finals, he won the MVP award a second time. Soon he was drafted to play for Houston Rocket, a popular club side in the National Basketball Association, NBA, in 1984.  In 1986, Hakeem led his club to the finals of the NBA, but lost to Boston Celtics in the best of seven series. He led the club to win the NBA severally in 1994 and 1995. Olajuwon won the gold medal for America in Atlanta 1996 Olympic Games. At the age of 39, after 18 seasons in the NBA, Olajuwon retired his Number 34 Jersey at Compaq Centre, the place where he played for 17 seasons[i].
 
[i] The News 30 December, 2002