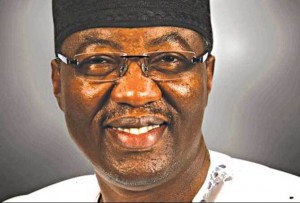 Justus Gbenga Daniel is a politician, and governor of Ogun State, Nigeria from 2003 to 2011. His name is often preceded by Otunba, an Egba chieftaincy title obtained during his first term as governor. Daniel is trained as a mechanical engineer and owns a heavy machine distribution company which he founded in 1990. His legacy in the Ogun state government which he ran for eight years would be the refurbished Olumo Rock tourist site, Housing estates, the State Secretariat complex at Oke Mosan, the Olokola Deep Sea Port project, and the underlying works for the infrastructural rejuvenation that was pursued by his opponent in 2011 elections and eventual successor after second term, Ibikunle Amosun.
 
Origin
Gbenga Daniel was born to Bishop Adebola Daniel and Esther Olaitan Daniel on April 6, 1956. His father hails from the Ojelobaye family in Makun Sagamu. Adebola's own father was Ajayi Onabanjo, a grandson of Otesile-Abamba, who was son of Adeboyejo, one of the founding settlers of Makun Agbele who migrated with Ojelamilu from Orile Agbele to settle there in c.1860.
Otesile-Abamba was an adventurous man who lived most of his life at Omu-Ijebu before returning to his people at Makun Agbele. His grandson, Onabanjo Ajayi stayed back at Omu-Ijebu where he gave birth to Gbenga Daniel's father. The family name Daniel was coined upon Onabanjo's conversion to Christianity. Adebola, Gbenga Daniel's own father was a clergy and notable preacher from Makun Sagamu family of Abamba Otesile who started his missionary life as one of the main lieutenants of Primate J. O. Ositelu. His mother, Esther Olaitan Daniel was from the family of Mabadejo of Ago Quarters, Omu-Ijebu.
 
Places of Growth
Gbenga Daniel was born in Oke-Ado, Ibadan. His father, Abraham Adebola Daniel planted church in Ibadan, Benin, Ifo, Idogo, Ijebu-Igbo, and Abeokuta, expectedly taking his family with him. His frequent change of location caused Gbenga Daniel to attend several primary schools. Important men of public affairs who came regularly to the defunct Western region House of Assembly which stood adjacent his father's house in Ibadan made an impression on his young mind.
 
Family
Gbenga Daniel belong to the Otesile lineage, an arm of the Oje Olowobaiye dynasty in Makun Sagamu, other arms of the family being Ogunsemowo, Oditan, and Oyefere. In 1986 he got married to Yeye Olufunke, daughter of Ajibola Opawole from Iwo, and graduate of the University of Ibadan whom she met while on a holiday job at a bookshop in Ikeja. Gbenga Daniel has five children, one of whom is female. His son, Adebola, is known for his motivational speaking activities.
Affiliates
Gbenga Daniel, as one of the best students in his undergraduate class became a close mentee of the celebrated professor and inventor, Ayodele Awojobi, though he quite did not identify with his politics as much as those of Tunde Bakare (Later Pastor of Latter Rain Assembly, Lagos), and Segun Okeowo, the arrow-head of the Alli Must Go protest against increase in school meal ticket prices in 1978. Gbenga Daniel is a member of the People's Democratic Party.
Relationships
Childhood
Schooling started for Gbenga Daniel at St. James primary school, Oke-Ado, and then ICC primary school, Oke Bola, both in Ibadan. With his father's transfer, he got enrolled at St. Joseph primary school, Oke Segun in Ondo. His primary education was concluded at Mushin public school in Mushin, Lagos. While in the Baptist Boys High School, Gbenga Daniel distinguished himself as a very bright student. He got prizes in eleven out of the twelve subjects he took for his promotional assessment from class three to four. He was an articulate speaker, and he represented the Abeokuta school in debate, quiz and essay writing. He learned the piano and often played the role of the chaplain at Ilugun Baptist Church.
 
Education
While still at Form IV, Gbenga Daniel came out with distinction in the General Certificate Examination which he was supposed to write at V. He then proceeded to read for his Advanced Level papers at the School of Basic Studies, The Polytechnic, Ibadan. From there he went to study Mechanical Engineering at the University of Lagos, obtaining the B. Eng. In 1979. He also earned a Masters in Business Administration from the same University in 1981, and subsequently attended the Lagos Business School where he did a Chief Executive Program (CEP).
Work
Gbenga Daniel's first work experience after his mandatory National Youth Service Corp was as an Assistant Commercial Manager at metal construction company in Apapa, Lagos, a company involved in diverse metal works including design, fabrication, production and erection of steel structures, storage tanks, silos, trailers, badges, and sophisticated crane installations. Gbenga Daniel moved from here to another construction firm at Apapa Oshodi Expressway, H.F. Schroeder (WA) Limited. There he enjoyed a rapid rise to the position of the Assistant General Manager.
When he was only 32, Gbenga Daniel became Deputy Managing Director of H.F. Schroeder, the first African to be so appointed. By 1990, he had taken his exit to start his own company, the Kresta Laurel Limited.
Gbenga Daniel's father travelled widely across Nigeria for his evangelistic works. In Liberia he met and became close friends of Presidents Taubman and Tolbert. This may have provided Gbenga Daniel some exposure, which coupled with the fame he enjoyed as a star of the Television quiz show Mastermind, served to inspire him into leadership. As an undergraduate, Gbenga Daniel joined the Chief Awolowo's committee of Friends, a prestigious association at the time, of persons who shared in the Nigerian political leader's ideal.
Gbenga Daniel won the 2003 Ogun state Governorship Election with a wide margin, becoming the third elected governor of Ogun state (his predecessor, Olusegun Osoba was governor in 1992 and 1999). He was voted in 2007 to serve a second term. He is a distinguished fellow of the Nigerian Society of Engineers. His administration in Ogun state funded the establishment of four ICT polytechnics, and made efforts to improve the tourist potential of the state with the face-lifting of the popular Olumo Rock site and the construction of stadiums.