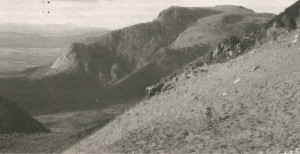 Gashaka Gumti; National Park established in 1991 as a tourist site[i], Gasha Gumti  is believed by many to be the largest, most scenic and biologically diverse conservation site in the world. It is one of the seven national parks in the country and one of Africa's best kept conservation site. Gashaka Gumti is located in the remote mountain- region of north-eastern Nigeria between the boundaries of Adamawa and Taraba States. It is situated in the Savannah area of Nigeria south of the Benue River. With a land mass of 6,731 square kilometres of undulating terrain and rolling valleys, the park shares boundary with the Faro Park in Cameroon and the famous Mambila Plateau from the South. Standing at 7,963 ft (2,419 m) in the Gashaka-Gumti National Park area in Taraba State, Chappal Wadi, also known as "Mountain of Death," is Nigeria's tallest mountain[ii].
 
Attractions
The Gashaka Gumti National Park has enormous attractions for adventure and recreation, sport fishing, bird viewings, park viewing, hiking, swimming and sun bathing, pony trekking, spiritual retreat and more, besides being a hot bed for ecotourism and ecological researches. The park contains most important areas of montane forests in Nigeria as 'caps' of montane forests in this region are critical to watershed conservation and climate change regulation. In this park, Chimpanzees are aboundant in their undisturbed natural habitats, especially in areas around Kwano Forest, Lianga Mountain and Chappal Wade.
Historical sites within the Gasha Gumti park includes British and German Forts, the Gashaka Village, a once famous trading hotbed for ivory, slaves, salt and games, with evidence of defence walls still in existence. Other areas include the Zanti Hills, Sangurditi, an ancient community shrine, Jiman, having ruins of German barracks; Yakubu with ruins of former slave trading post[iii].
[i] Guardian 29, 2013
[ii] The News May 24, 2010
[iii] Tribune March 30, 2015