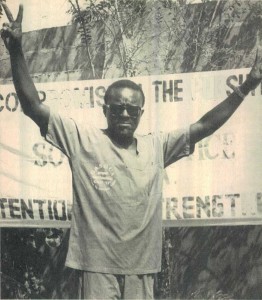 Gani FAWEHINMI; Lawyer and renowned human rights activist. With his group, the National Conscience, formed in 1994, Gani Fawehinmi fought the cause of democracy following Nigeria's June 12 1993 debacle. He also collaborated NADECO two years later in organizing rallies where he famously dared policemen. Fawehinmi's struggle in 1998 was of total revolution and not just a transition, and he demanded MKO Abiola, winner of the 1993 presidential election to form a government. None of these wishes came true. In his career which started in 1965, Fawehinmi instituted over 5,000 suits at the Supreme, Appeal, High and Magistrate courts[i]. For his advocacies, he was arrested for 36 more times. He died September 9, 2009.
Origin
Gani Fawehinmi was born on April 22, 1938 into Tugbolo Fawehinmi family in Ondo. His father, a timber magnate, and Seriki Musulumi of the city, whose own father was Chief Lisa (Alujonu) Fawehinmi, a warrior of great repute.
 
Places of Growth
Gani started elementary school at Ansar-Ud-Deen Primary School, Ondo in 1942. At the age of 16, he gained admission to Victory College, Ikare, Ondo State.
Childhood
While in the secondary school, Gani was called "Nation", a nickname he got on account of his interest in legal and political affairs. He was also a devoted reader of Daily Times and West African Pilot, the most popular newspapers of that era. In December 1958, the principal of the school gave Gani a letter to his father, advising that Gani should be encouraged to study Law[ii].
 
Education
On 29 April 1961, Fawehinmi sailed to England and enrolled at Holborn College of Law as a part-time student. His hope of becoming a lawyer was threatened with the loss of his father who was fully responsible for his education and welfare. After obtaining a degree in Law, Gani returned home and was called to the Nigerian Bar in January 1965.
 
Lawyer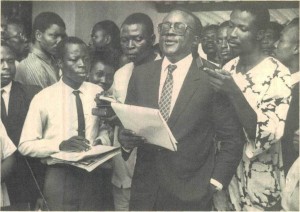 Only four years after his call to bar, Gani defeated the very renowned Rotimi Williams in a case in which of a factory worker whose wife had been snatched by a powerful public servant in Benue Plateau State Government. He was detained for six months by the government of Yakwubu Gowon in that year. Gani Fawehinmi led a team of lawyers to defend Saro-Wiwa but withdrew from the case when their observations about the tribunal's bias were ignored. Tribunal sentenced the Ogoni leaders to death, leading to the suspension of Nigeria from the Commonwealth. He was equally the lawyer to Dele Giwa, renowned journalist whose killing through parcel bomb in 1986 he protested down to Oputa Panel in 2000 and his own death over a decade later. When MKO Abiola died in detention, Fawehinmi filed a suit at the Federal High Court, Ikeja, praying that Abubakar be compelled to explain the deaths of Abiola, his wife Kudirat and that of nationalist, Alfred Rewane.  In 2001 the Legal Practitioners Privileges Committee belatedly conferred him with the rank of Senior Advocate of Nigeria[iii]
With his regular publication of law reports Gani Fawehinmi ended the esoteric circulation of cyclostyled copies of the judgments of the appellate courts which made it easier for privileged lawyers to win cases. Gani was honoured in Vienna with Dr. Bruno Kreisky Foundation Award for his outstanding achievement in his human rights activities.
 
[i] TheNews March 31, 2008
[ii] TheNews September 21, 2009
[iii] Punch September 27, 2010