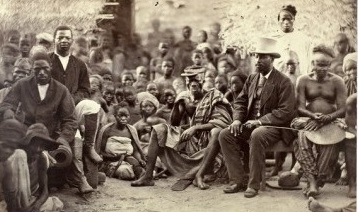 G.W. Johnson was a Sierra Leonean returnee of Ijesa and Owu extraction, a British subject who came to prominence in Egba politics during the reign of Bashorun Somoye. Born in 1828, Johnson received his early education in Wesleyan school before he settled in Abeokuta in 1865. By this time, Johnson's view had become radicalized, and though he was born a Christian, he was believed by many missionaries to be complicit in the Ifole Crisis in which Egba Christians suffered their worst persecution. In 1869, Johnson supported Oyekan's bid to the Alake stool, a man who had boasted that he would complete the Ifole if he came into power.
As a self-styled Amono-Oba, meaning, the King's Counsel, Johnson's double-dealing, which severally caused strain between the governments of Egba and that of the Lagos colony, had earned him the alias "Reversible Johnson". When Johnson gained the attention of the Basorun, he advised on, and created a quasi-constitutional arrangement in which the Egba United Board of Management became the ruling organ. He served as secretary under this board. Johnson was quick to acquaint himself also with Alake Ademola, to whom Oyekan lost his bid to power, who succeeded to the royal stool of Alake Okukenu after the demise of the influential Bashorun Somoye.
It was for Johnson's sake that the Lagos colonial government in a Dispatch of June 1873 decided there was no recognizable de facto government in Abeokuta, thus denying the authority of Alake Ademola. Johnson was expelled on the recommendation of Lagos to be reinstated in 1880 as secretary of the Egba governing organ, three years after the death of Ademola I. In his office as Secretary, under Oyekan, whose renewed bid in 1877 scaled through, Johnson drew up a constitution which finally recognized Christians and their right to participate in governance. In this 1881 document, he proposed to the Alake and the chiefs, a scheme for the modernization of governance, essentially introducing the imposition of custom duties on foreign merchandise.
Native merchants selfishly distorted Johnson's proposal, claiming he was to extend British laws and jurisdiction to the then independent state of Abeokuta. He was again expelled, on this account, after the one-year reign of Oyekan but he quickly resurfaced, partaking in the short-lived governments of Oluwaji who consequently lost favor from the elements of power in the kingdom. Johnson, now bereft of relevance, tested his sway in the Owu quarters of Abeokuta, encouraging the Olowu, another sovereign within the town to pursue a policy not consistent with that of the Egba central government. Consequently, he was for the forth time, expelled from Abeokuta. He relocated to Lagos where he died in September 8, 1899.