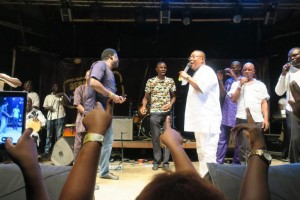 Fuji is the popular Yoruba music genre which emerged in the 1960s from Were that was played by Muslims during the Ramadan festival. The set up before the transformation usually comprised of a lead singer who sings while others chorused with such instruments like Sekere, Gangan, Iyalu, Sakara, Agidigbo, Igba, and atimes, Agogo. Closely related to this genre are cousins like Dundun & Sekere, Apala, Sakara, and Waka. Families that played Dundun & Sekere are called Ayan, i.e. Ayantola, Alayande, Ayanda, or Ayantunde. Sakara is played by the Aje, i.e. Ajenifuja, Ajeniya. Were singers are Akigbes. They hardly use drums but go about shouting and chanting, in praise of Obas and chiefs. The Elesin family, some of who are professional mourners are also pioneers of Were, and from this set of music came the close cousins to Fuji; Apala, and Sakara music.
 
Fuji variants
Dundun & Sekere
Frequently played for Obas; Olubadan of Ibadan, Timi of Ede, Owa of Ilesha, and the Lagos Oba. The whole evolution that will culminate into Fuji started from this, and it was through it that Sakara came to being. These folk songs has major influence on Ewi chanters, who are modern day Akigbes and Asunraras, still existing in palaces today.  Examples of Akewi or Ewi chanters are Gbenga Adeboye (Funwontan), Lanrewaju Adepoju, Opeyemi Fajemilehin, and Sesan Adewusi.
In Mushin, Apala became popular when talking drum was introduced to Were music.
 
Sakara
Sakara, also having its root in Were, is a very slow music type with philosophical, thought-provoking rich lyrics, was meant in the 1940s through the 1960s as the exclusive music for the elites. Because of its soft-tempo, cool, melodious, soothing and dazing nature, people called it Valium-5. Sakara is played by about ten people with different traditional instruments like Gangan, i.e. Apala with Sekere, Sakara, Igba i.e. calabash, Goje i.e. the African violin. Foremost among Sakara musicians are Taofiki Akanmu, Ourongbe, Saka Laigbade, Lasisi Popoola, Oluwa Abibu, Ajao also known as Babalegba, and Yusuf Olatuni, whose long reign, when ended with his death in 1978 brought about the acquisition of the music by Fuji.
 
Waka
Waka, played by the women folk, is another form of Were music that existed even before the revolution of Fuji. The art, sounding like the female version of Apala is played predominantly among the Ijebu. Although Waka played like Apala or pure Were originally, the most popular artist of the lone voice of the subgenre, Salawa Abeni have modernized it almost beyond recognition. Today, waka has almost completely merged with Fuji and women may be seen leading a Fuji band.
 
Were
Front runners among those who transformed Were into Faaji, a term denoting a more fluid and enjoyable art, were Monsuru Akande, and Sikiru Ayinde Barrister who always emerged first at competitions held at Evans Square and Lagos Island. Other singers who contributed to the revolution of Were include Dauda Akanmu of Ibadan, Gani Agboluaje, Aadi Ganiyiyu, Ayinla Kolawole, and Ilori Kollington.
 
Origin of "Fuji"
 
Fuji music historian, Paul Wale Ademowo believes the term "Fuji" to have been coined subconsciously by locals from a Japanese word as there were electronic devices, including musical instruments by brands of same name. A second explanation is that the word was formed through the phonetic flaw of Lagosians in pronouncing "Furuji," a word closely related with the faaji or enjoyable nature of the newly evolved music style. Finally, a pioneer Fuji maestro and the man who shot Fuji music into limelight, Sikiru Ayinde Balogun, explained himself to be the originator of the term. Highlife music have also shown some elements of Fuji.
A Fuji band often comprises twenty to thirty members, among whom were instrumentalists and vocalists. Innovations like Jazz, and Hawaiian guitar, piano, mouth organ, keyboard, trumpet, and other musical effects has been made. Fuji has dissolved the notion that it is meant only for muslims and is now accepted across religions. There is now what is called the Fuji gospel. Some self-acclaimed Juju singers happens to be playing fuji and many juju artists incorporate fuji as part of their ingredients. Following Sikiru Ayinde Balogun is Ayinla Kollington who gave the former a run for many years. Other names in the Fuji music are Monsuru Akande, Wasiu Ayinde Barrister, later Marshal, and Adewale Ayuba.