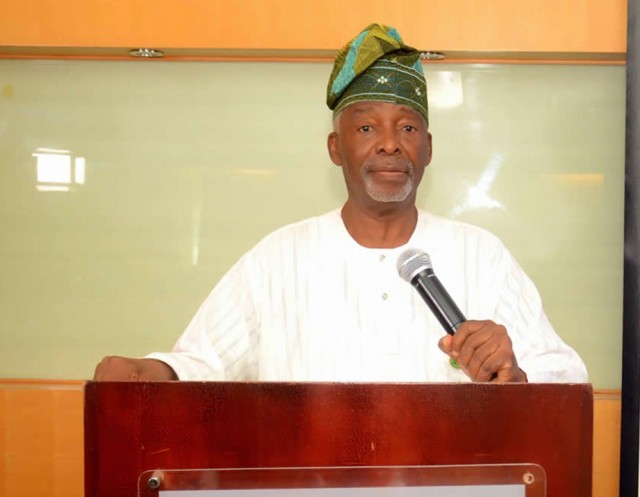 Frederick Fasehun; Social-political activist and founder of the Oduduwa People's Congress OPC, the NADECO-contemporary established during General Abacha's regime to protect Yoruba interest. Though Fasehun is a medical doctor with chains of degrees, his association was pioneered by grassroots persons of lesser education, with whom an effective machinery was devised to speedily attract new members.
Due to his earlier contact with chieftains of NADECO during the repressive years of Abacha, Fasehun was arrested on 18 December 1996 and incarcerated for months under horrendous conditions. Like other pro-democracy activists, he was released on 26 June 1998 following the death of Abacha. By this time, the organization which he formed had devolved into two factions; the lesser one under Taiwo, a semi-literate retired military officer and the bigger under Gani Adams[1]. The less radical OPC which Fasehun founded advocated a Sovereign National Conference SNC, for the reorganization of the Nigerian administrative structure whch will bring about regional autonomy for the Yoruba states. It also aspired to actualize the June 12 presidential election of MKO Abiola which was cancelled by the military in 1993.
Origin
Frederick Fasehun's paternal grandfather, Adetona was a prince in the Ekiti country. Refusing the crown, he migrated to Ondo where the rest of his life would be spent. His conversion to Christianity, particularized by his former reputation as a feared juju man had given Ondo church a harvest of many converts. Adetona's wife who mothered Columbus, Frederick's own father, was an appealing industrious woman. She traversed quite often the waterway between Lagos and Agbabu, the port of Ondo forty miles away. Mother, Comfort Olakurojomu was a descendant of the Alaafin of Oyo and Ojomu of Ondo, a highly placed chief in Ondo town. Her marriage to Columbus Fasehun yielded six children, with Federick Fasehun coming as the fifth.
Growing Up
Fasehun being a sickly child was put under the care of his maternal grandmother, who took him daily to the farm and weekly to long church meetings at the All Saints Church, Ogbonkowo. Cousins who came around excited his anxiety concerning his continued illiteracy hence his thwarted attempt to sneak to his elder brother who he hoped would help educate him in Lagos. Back home, a faked illness and hunger strike won him his goal and he was finally sent to the Salvation Army School in 1947. Perceiving the school to be little known, Fasehun opted, through the help of his sister's boyfriend, to gain admission into the St. Matthew's Roman Catholic School. Fasehun was at St. Peter's Teacher Training College in Akure the only non-Catholic student among the pioneer twenty-five. Notwithstanding his sterling performance, he was dismissed, but was able to secure a good testimonial for admission to his new school, the Ondo Boys High School under a man in the mold of Reverend Kuti namely Reverend Emmanuel Odunsanwo. There he withstood the cynicism of teachers and mates to emerge first.
Travels
On 1 October 1959 Fasehun arrived in London, leaving by train for Blackburn, where he was for months before Aberdeen. In 1974 he returned for a postgraduate course in Liverpool. His high regard of British ethics and hospitality in his account was at variance however with his experience of expatriate staffs at work in Zaria, Nigeria. His impression of China was idyllic when he was nominated at work in 1977 to go learn Chinese traditional medical practice. He returned years later to scoop more knowledge.
Family
Fasehun's wife of one year died in London in 1969. On 3 August 1972, few hours after meeting his in-laws, and three days before his journey to Liverpool, U.K., he married Iyabo Giwa, a final year student nurse whom he met in Zaria. Their first child, Kayode came in 1967. Second born and only daughter, Febisola is a medical doctor too.
Childhood
Federick Fasehun was born 21 September 1935 in Ondo. As a toddler, he was attacked by constant bout of violent illness which threatened his life and frustrated his mother into throwing him into River Agbabu, during a journey from Ondo to Lagos in 1938. What was supposed to be the end of him proved to be, after he was retrieved, what probably dissolved his illness. Fasheun's latter struggle as a child was to get himself a foothold in life through education. His chance of getting the sponsorship of his father was foreclosed hence he lived the laboring intrigues of meandering through schools. He believed his struggle to be buttressed by providence, and evinced signs of not being cowed by his screaming failure to get to school early. Through his strong will, he had conjured the affection and deep sacrifice of both his otherwise far away mother and grandmother who saw to making him an exception of family rule. Fasehun was brought up by Christian parents and he was baptized at seven at the Cathedral Church of St. Stephens, Oke-Aluko in Ondo.
Education
Fasehun went to the University Of Aberdeen School Of Medicine, a most exclusive one among proud Scottish schools, graduating after six years of study with the professional degree M.ChB. His specialization in Anesthesiology, occasioned by the emotional effect of his wife's death in 1969 marked a turning point in his academic pursuit. Through the sponsorship of the British Oxygen Company, BOC, he proceeded in 1972 to the Postgraduate Medical School of the University of Liverpool, in the world famous Department of Anesthetics. Within two years he achieved his four-year bursary supported Fellowship of the Faculty of Anesthesiology of the Royal College of Surgeon (FFARCS).

Career
Before going into private medical practice Fasehun worked at Zaria and Lagos teaching hospitals respectively, deciding to leave on both occasions due to resistance to his efforts at making change. In 1989, comrades of the Dockworkers Union of Nigeria which he served as a Consultant Physician introduced him to politics.
The Nigerian Labour Party formed by the Labour movement invited Fasehun to chair their group. He did and so led the group into the leftist Social Democratic Party, SDP, one of the two political parties enacted by the military Head of State, Ibrahim Babangida. Although his group quickly lost relevance under the SDP, he, summoning the support of youthful elements within the party, declared his intention to contest as president. He resigned this intention shortly, when rumours of the Babangida's insincerity reached his camp, particularly when candidates were asked to buy a form for 500,00 naira.

Activism
Talks and political regrouping towards the end of Head of State Ibrahim Babangida's rule brought Fasehun in contact with non-politician activists like Beko Ransome-Kuti, doctor and former chairman of LUTH whose Campaign for Democracy CD caused a stir with its huge rally at Ikeja in July 1993. Anthony Enahoro, a statesman from the older generation was ferried covertly by him to the borders of Benin Republic in May 1996 to avoid persecution from the ruthless General Abacha government. Lawyer activist, Gani Fawehinmi provided free legal services to Fasehun during his incarceration.
Following the unpopular cancellation of the June 12 1993 elections, Fasehun dipped more into the pro-democracy movement. When the National Chairman of the Campaign for Democracy CD, at a time the hottest bed for such groups, was jailed by the Abacha junta, he became the Acting Chairman. On 24 August 1994 he founded the OPC.

Motivation
Challenges posed by late commencement of schooling appears to be Fasehun's initial source of motivation which echoed down the rest of his entire academic career. He took every chance he got therefore to attempt examinations as private candidates, thus reducing the time required to stay learning. The romantic story of his miraculous survival at three, told by his mother, and his own cerebral quality, spiced by series of successful self-prophesies appears to have stirred him on.

Accomplishments
Frederick Fasehun was a vocal member of the pro-democracy movement and on this basis rejected advances from General Abacha's government to join Professor Aluko-led National Economic Intelligence Committee. His Besthope Hospital was among the well-known in the populous Lagos suburb of Mushin.
[1] Federick Fasehun; The Son of Oodua, Federick Fasehun, Inspired Communications Ltd., Lagos, 2002