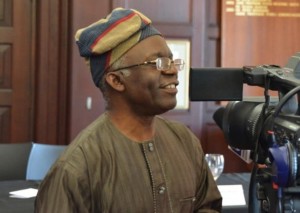 Femi Falana; Nigerian Lawyer, democracy and human rights advocate. From 1988 he used his membership of and activities in different organisations to fight for an egalitarian society, often with comrades of different hues: Wole Soyinka, Tai Solarin, Segun Okeowo, Dele Giwa, Femi Aborisade, Nosa Igiebor, Priscllla Kuye, and Beko Ransome-Kuti.  Falana was arrested by the Nigerian State Security Service on 23 May 1995 and detained for 24 hours over his defence of Ken Saro-Wiwa, leader of the Movement for the Survival of Ogoni People, MOSOP who was later killed by the General Abacha junta. He was also held at Hadeja prison in Jigawa State for eight months on the charge that he was a threat to national security.
 
Place of Growth
Falana was born on 20 May 1958 in Ilawe, Ekiti State. He was educated at St. Michael's Primary School, Ilawe, 1963-1968; Sacred Heart Catholic Seminary, 1971-1975.
Family
Femi is married to Funmi nee Aguda, who later became a lawyer, and a pastor in Foursquare Gospel Church. Like him, Funmi is an activist and she fights for the rights of women and children on the platform of her Non-Governmental Organisation[i]. His son, Folarin, called Falz, is a popular rapper who often blend entertainment with activism.
Education
Falana gained admission to the University of Ife – now Obafemi Awolowo University – to study English 1977-1981 but changed to Law after the first year, his reason being his contact with radical literature which illustrated how some historical figures who were lawyers changed their society.
 
Experience
Between 1990 and 1995, Falana was legal adviser, Campaign for Democracy; Secretary-General, African Bar Association, 2000 to 2004; President, Committee for the Defence of Human Rights, CHDR, 1997 to 2000. He is also the Publisher and Editor-in-Chief, Weekly Report of Nigeria and member, Council of Legal Education. He was an active member in the pro-democracy movement as embodied by the National Democratic Coalition, NADECO. For his activities, Falana faced a lot of harassment[ii].
Falana headed his own chambers since 1991. He is the chairman, West Africa Bar Association, WABA. In 2007 Falana contested the governorship election of Ekiti State, under the platform of the National Conscience Party, which he later chaired.
 
Motivation
Falana is reported to be motivated by such famous figures as Vladmir Lenin, leader of the Bolshevik revolution in Russia; Fidel Castro of Cuba as well as Oliver Tambo and Nelson Mandela of South Africa, in Nigeria, the Ali-Must Go crisis in 1978 and the positive role played by Gani Fawehinmi steeled Falana's re solve not only to study law, but to make the course a vehicle of advocating a just society.
[i] Punch July 13, 2013
[ii] Newswatch October 4, 2010