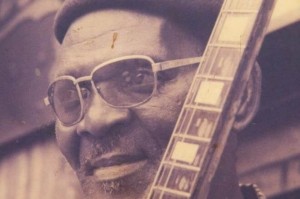 Fatai Olayiwola Olagunju; Legendary highlife maestro popularly called Fatai Rolling Dollar. A guitarist, singer and exponent of native thumb piano – Agidigbo, he was the oldest artist on the Nigerian music circuit when he died on June 12, 2013. Fatai's music career spanned decades and till the very end, he was an electrifying presence on stage and a colourful character on the entertainment scene.
Born on July 22, 1926 in Ede, Osun State, Fatai Olagunju later grew up on Lagos Island. He started his musical career in 1953 after encountering the music of legendary artists like Tunde King and Irewole Denge. After a short sojourn in Freetown, Sierra Leone, from where he picked some music ideas, he came back to Lagos and modified the then so-called palm-wine music originally played by the Jolly Orchestra band popularly called Atari Ajanaku, led by Harbour Grant. He added the sweet melody of guitar and the rumbling of percussions. Olagunju's music then became a fusion of native Agidigbo with broader highlife and Latin themes. The Latin influence emanated from his interaction with a large immigrant Brazilian and Hispanic population in Lagos. His music evolved from the "palmwine" music, which was played as far back in 1939. More lately, he experimented with Afro-funk and Afrobeat music.
 
His verve and dexterity on the guitar was fantastic. His zest for life and energy, even in old age, thrilled his admirers. Earlier in his career, he had appeared to have lost steam and fallen on hard times. Then, from the blues, in the early 2000s, he took the music scene by surprise with a hit song. He then followed with a remix of some of his old tunes, all instant hits. He was the ultimate "comeback kid" of Nigerian music, becoming a much sought-after performer thereafter. Not until this second coming that he finally got his due, commercially, and as a virtuoso, an exponent of Neo-traditional highlife rhythms. Fatai Rolling Dollar was so successful on his second coming that he was a regular at high-class events and on the international scene. He was prepared to go to Germany before his ailment and consequent death.
Guardian June 26, 2013