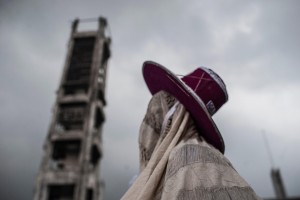 Eyo is a visitor from the world of the spirit. It speaks in funny nasal sound which usually is the ventriloqual language of the dead. Attired in white flowing robes with an artfully decorated head gear, called the Aga and a face mask made of transparent lace or the traditional Aso Oke material, the Eyo masquerade wields a staff called Opambata, which he occasionally uses to beat an erring bystander and blesses a friendly one.
It is inconceivable, yet Lagos, the commercial nerve centre of the most populous black nation on earth abandons all commercial activities, even on a high trading day like Saturday to celebrate the Eyo. Every February  the people of the old city stage Adimu Orisha play, the first of which was held on February 18, 1854. History of the play predates even that, and it was held on Glover Road in Ikoyi for many years. The performance has characteristically been heralded by large fanfare, pomp and pageantry. What used to be the near exclusive concern of traditional leaders became a state affair in the year 2000 when the state government took unprecedented interest in the organization of the event.
The play, which is traditionally staged only in memory of a departed illustrious person and always on a great occasion or event, is centred around the Yoruba belief in reincarnation of the spirit of the ancestors who return, not only to partake in the final burial ceremonies of the deceased being honoured, but to take his spirit with them. Hence, there is usually the symbolic lying-in-state as represented by an empty coffin and a portrait of the deceased being honoured. Usually after this, the city goes agog and thousands of people who had come to watch the Eyo carnival, from far and near, throng the streets of Lagos marveling at the dance steps and acrobatic displays of the Eyo as it paraded the streets in an unusual wriggle-like style of movement. At the end of it all, Eyo Adimu, took the rear — as the visitors returned to the great beyond amidst the traditional greetings to the Eyo, "Agogoro Eyo," meaning "What a tall and imposing Eyo," and the response of the Eyo: "Moyo fun e, moyo fun ra mi," meaning, "I rejoice with you and rejoice with myself," signalling the end of the Adimu Orisha play[i].
[i] TELL March, 2000