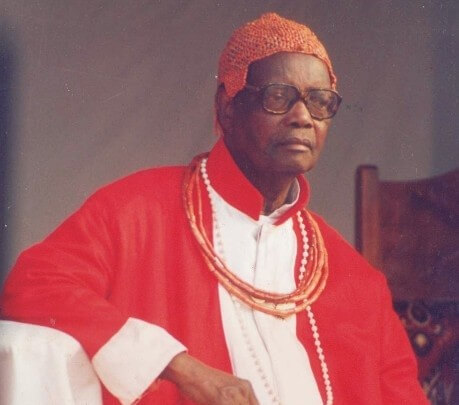 Erediauwa Uku Akpolokpolo; Oba of the famed ancient kingdom of Benin  in Nigeria. As a Cambridge-trained lawyer, Ereduwa worked in the Federal Civil Service for 21 years before his appointment Permanent Secretary at the Federal Ministries of Mines/Power and the Federal Ministry of Health. In 1999 Ereduwa was suspended for four-month as chairman of the Edo state council of traditional rulers by the military administrator of the state, Navy Captain Anthony Onyearugbulem[i]. His his memoirs, published in 2004 I Remain Sir, Your Obedient Servant, posed a challenge to contemporary historians and custodians of the culture and traditions of the Benin and Yoruba people. Erediauwa's account of the person of Oduduwa, progenitor of the Yoruba people, was condemned by the Ooni of Ife, Oba Okunade Sijuwade as a distortion of historical facts[ii].
Place of Growth
Ereduwa was born on June 24, 1923 in Benin-City, to the royal family of Oba Akenzua II, during the reign of his grandfather, Oba Eweka II. Before he became Oba, he was known and addressed as Prince Solomon Igbinoghodua Aisiokuoba Akenzua. He had his primary education at the Government School, Benin-City. He had his secondary education at Government College, Ibadan.
Childhood
When young, Ereduwa distinguished himself not only in academic work but also in sports. He earned the position of House Prefect (Grier House) and later, Head Prefect in 1945. Demonstrating an uncommon ability to combine sports and academic work, he passed his Cambridge Certificate Examinations the
 
Education
Ereduwa studied Arts at the Yaba Higher College, 1945-47 before proceeding to Kings College, Cambridge, where he studied law, graduating in 1951. He followed this up with a postgraduate Diploma in Administration, before returning to Nigeria in 1952.
 
Experience
Ereduwa joined the Federal Civil Service when he came back to Nigeria in 1952. After serving on the boards of the defunct Electricity Corporation of Nigeria, ECN, which later became National Electric Power Authority, NEPA; and the University of Lagos Teaching Hospital (LUTH) and the University College Hospital (UCH), Ibadan, as chairman. He served his native state, the defunct Bendel State, as Finance Commissioner. Ereduwa also served as the Bendel State representative of the Golf Oil Company and chairman, Tate and Lyle Sugar Company Limited.
When Ereduwa retired in 1973 he was provided with the chance to perform the traditional roles expected of him as a crown prince: perfecting his expected duties as the Edaiken of Uselu and a king in waiting. And after his father had passed on, he was installed as the Oba of Benin in March 1979 and took the name, Omo N'Oba N'Edo, Uku Akpolokpolo, Oba Erediauwa, the Oba of Benin. Oba Ato pe e, Ise before ascending the throne of Benin in 1979.
 
[i] Tell April 17, 2000
[ii] Tell August 16, 2004