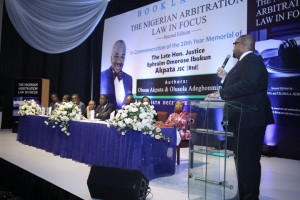 Ephraim Omorose Ibukun Akpata; Nigeria's Independent Electoral Commission INEC chair who organized elections in 1999 which ushered in Nigeria's democracy after 15 years of military rule. Akpata was a retired justice of the Supreme Court working as private consultant on arbitration matters when he was appointed by General Abdulsalami Abubakar to head the newly formed INEC. Akpata died on 8 January, 2000[i].
Childhood
Born April 15, 1927, in Benin City, present-day capital of Edo State, Nigeria, Akpata was son of a postmaster at the Benin General Post Office, he attended Government School Benin, Baptist School, also in Benin; later King's College, Lagos. After his secondary education, young Akpata worked as a clerk with Marine Department Apapa, Lagos. Medicine was the profession of his dream, but Law became the real anchor of his successful life.
 
Travels
Akpata left the shores of Nigeria for Canada in 1950 alongside Felix Osayonde Akenzua. They travelled on board a French boat, SS Hoga. He secured admission to read Medicine at the University of Manitoba but the freezing weather of Canada made him sick and he abandoned his course, and the country altogether. He left for the United Kingdom, where he read Law.
 
Education
Called into London's Middle Temple on November 24, 1959, Akpata returned to study for the Nigerian bar to which he was called in December 14, 1959.
 
Experience
Akpata started his career in private legal practice and was exposed to political cases from the start. He served as defence counsel to the defunct NCNC, a national political party In post-Independent Nigeria. The assignment took him through the crucible of fire as he was involved In many cases in the old Midwest, Nigeria. It also prepared him for the latter role as an umpire of political contests. By 1969, he gave up legal practice for the bench. He started as acting magistrate on November 9, 1967, became chief magistrate February 2, 1968, and was appointed Chief Judge of the Midwestern State of Nigeria September 1, 1973.
In 1983, Akpata was made a justice of the Court of Appeal. There he was until April 9, 1990 when he reached the pinnacle of the bench; he became a Supreme Court Judge, retiring in 1992.
[i] Daily Trust February 22, 2019
[ii] Tell January 24, 2000