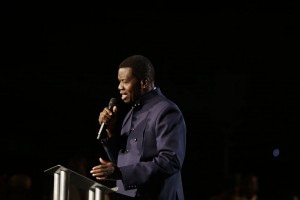 Enoch Adejare Adeboye; Pastor who in 2009 was recognised as one of the most influential people in the world by Newsweek Magazine, USA. Adeboye is the General Overseer of Redeemed Christian Church of God, RCCG, which is one of the largest and fastest growing Pentecostal churches in the world. Adeboye came in contact with the Redeemed Christian Church of God when he was 31 and a lecturer at the University of Lagos who was about completing his doctorate degree. He became the General Overseer of the RCCG in 1981 which he pushed to international prominence on 18 December 1998 with the Holy Ghost Festival held in Lekki, Lagos that was themed Divine Visitation. Cable News Network, CNN, put attendance at over five million. The Special Holy Ghost Service, hosted by him is tagged The Festival of Life, and has been a regular bi-annual programme in London since 1994. Similarly, special Holy .Ghost Services have been held in the United States of America, Holland, Germany, Israel and South Africa.
Origin
Enoch was born March 2, 1942 into a humble family in the village of Ifewara in present Osun State. He was the last child and only son of Moses Adeboye who was one of the original migrants to the village, from Ile-Ife. The high mortality of children discouraged his mother from trying, but she after significant persuasion conceived him.
Childhood
Adejare grew up in a poor household and did not own a pair of shoes until adolescence. He had his el-ementary school at his home town of Ifewara and secondary school at llesa Grammar School, between 1956 and I960. He was a young genius who picked interest early in Mathematics and Reading literatures. On completing his primary school education at the Anglican Primary School, Adeboye convinced his poor parents to allow him continue with school in Ilesha Grammar School. At the third year of his studentship at Ilesha, Moses, his father, passed away. A loan of £8 was obtained to settle examinations fees with the help of Revd. Akinyemi, the school principal, from the local Church Missionary Society. Enoch left with an award to teach mathematics at Okeigbo Ifetedo Grammar School, where he was nicknamed "Pythagora's Theoreme."
Family
At the age of 25 Enoch Adeboye married Foluke Adeyokuno, a church loving daughter of an Ilesa socialite.
Education
Adeboye left the ob at Oke-Igbo to study mathematics at the University of Nigeria, Nsukka. With the breakout of the Nigerian Civil War, Adeboye's career plan was threatened. He escaped the Eastern part of the country through a boat. His degree would be awarded by University of Ife in 1967. Adeboye got a Masters degree in Hydrodynamics from the University of Lagos, Nigeria in 1969, and a Doctorate Degree in Applied Mathematics from the same university in 1975.
Before RCCG
Inundated by stories of witchcraft from his Ifewara village, Enouch became unrestful in spite of his career success. The persistent sickness of his daughter compounded his anxiety and led him in 1973 to Israel Akindayomi, an intelligent and ambitious man of God, founder of the Redeemed Christian Church of God. Not formally educated himself, Akindayomi took interest in, and built friendship with his much younger mentee who he ordained pastor in 1975. Josiah Akindayomi passed on in 1980, having named Adeboye his successor.
Pastorship
Adeboye who was the youngest reverend of the church succeeded the founder after the old man's demise on 2 November 1980. Soon after rising to the position of authority Adeboye changed the title by which he was addressed from Rev. Dr. to Pastor and took the designation of the General Overseer. Adeboye introduced a church planting style to the Redeemed Church that brought it from a few parishes to several thousands. The church retreat which according to him, was God's gift on his birthday evolved into a monthly event. Testimonies to the encounter of the supernatural and an extensive media appearance brought Adeboye to the notice of the nation. He was finally launched into prominence with the Lekki '98 open air meeting that had in attendance some 7 million people, reported by CNN and BBC as largest mobilization of people in the world. The Redemption camp, where his office is located continue to grow in size and sophistication with the addition of new estates and a university. Presidents and top government functionaries have visited Adeboye for prayers and counsel.
Motivation
Adeboye once told his story to a Lagos audience in 1998 of how a bishop visited his village and captivated by the colourful honour accorded the clergy, he decided to be a bishop. As a lecturer in the University of Lagos, however, his dream was to be the youngest Vice Chancellor the country had ever produced. This was to change when he met church founder Akindayomi who ordained him as reverend on 14 September 1975. Two years before, Adeboye was encouraged by his uncle, Rev. Chris Fajemirokun to visit the ramshackle church at the Lagos Lagoon front on July 29, 1973 where he met the reverend, Josiah Oluwafemi Akindayomi. Adeboye and his wife Folu were reported afterwards to be "arrested by the Holy Spirit" under the ministration of Rev. Akindayomi, which made the young lecturer commit himself to church work.