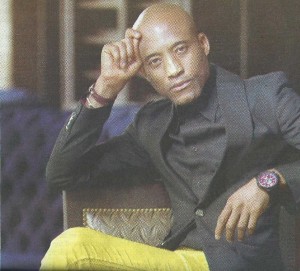 Emmy Collins, born of Nigerian and Dutch parents,  is a London based avant garde fashion designer who is well known for his sartorial taste in fashion. Also a fashion blogger, Emmy have declined Nigerian artistes who approached him for styling several times, preferring to style only persons who have a strong personality that could pull off an Emmy Collins design and wear it well. Emmy did courses in the UK and through them came to understand that the quality of tailoring is more important than the dress itself.
Emmy was raised in Umuahia and he attended Government College Umuahia. His love for fashion started when he met other kids who loved dressing up for parties and social functions. When he moved to Lagos, he hung out with rich kids who received lovely clothes from their parents and relatives outside the country. Since he did not have such privileges, he had to improvise by getting his own fabrics and making his own designs. In those days, he would sneak out to watch musician, Fela, perform who had a well-defied style that in his confession, inspired him.
Emmy studied Banking and Finance at the Institute of Management Technology, Enugu, but did not complete his course. He left after the first year and travelled to the United Kingdom almost immediately. The initial idea was for him to continue his education there but he diverted into business before going fully into fashion. His label started in 2006 in the UK; he also opened a showroom in Lagos that same year. The showroom was opened for a couple of years but he realised that the people who were managing the showroom did not share the same vision with him, hence shut it in 2008. Emmy concentrates on the UK market and his shop in Nigeria open only when he visits as he aims to serve people who can afford what he have to offer, in which case a majority of his best clients  are visiting Nigerians. Emmy Collins' shirts are pricy[i].
[i] Punch July 28, 2013