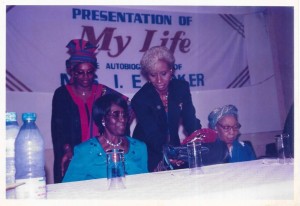 Efunjoke Coker; Educationist, first Nigerian principal of the Queen's College, Lagos. Efunjoke occupied the unique place of being the only Queen's College girl on record who participated in the life of the school in the capacities of a student, Principal, and Chairman of the Advisory Council.
As a teenager, Efunjoke tutored pupils at St. Teresa's in Lagos and Ibadan, followed by St. Agnes in Lagos. After her Masters degree in Dublin, she returned to Nigeria to be posted as Education Officer at Queen's School Ede, then four years at Education Officer at Government College Ibadan, where one of her students had been Olu Falae, Nigeria's presidential aspirant in 1999.  From GCI she took up the post of the Vice Principal of the Queen's College, Lagos, resuming work on 2 July, 1962. Eighteen months after, on 22 December 1963, she became Principal of the school.
 
Origin
Efunjoke's ancestors were Egba, but her family had only very little connection with Abeokuta, her great grandfather Soluade, haven sent Kusimo, his only surviving son to the Catholic Mission who as accomplished educationist left with Catholic priests for Ouidah in present day Republic of Benin, where Bankole, Efunjoke's father was born[1]. Her mother's grandfather was the churchman, Senhor Izidro de Souza whose home at No 12 Taiwo Street was said to be the house where the first Catholic Mass in Lagos was said. Her father, a multilingual society man was an active member of the Holy Cross Cathedral.
 
Place of Growth
Efunjoke Coker was born 29 September 1924 at No 118 Bamgbose Street, Lagos. The family later moved to Campos Square and 12 Taiwo Street, but her memories were of the latter, where some twelve years of her life was spent. The large compound afforded neighborhood children happy moments playing games, and indoors, children from the closely knit family, consisting both Christian and Muslims, learnt songs and played indoor games refereed by Efunjoke's mother and sister who had been teachers. In her primary school days Efunjoke spent some holidays with her sister at 5 Odo Oshun Street, off Omididun Street in Amuto Area where Kori dancers often performed their fascinating body bent double rolling movement from side to side dance. In January 1929, she joined her eldest sisters in St. Mary's Convent School, Broad Street.
 
Travels
Seeing the world formed a side ambition for Efunjoke, a love she inherited form her father. Opportunity provided with studies in Dublin consequently was utilized travelling Western Europe and interacting with other peoples of the world. In an auspicious instance after a morning Mass, she met the leader of the Irish independence movement, Eamon De Valera. As an educationist she partook in government-sponsored education tours, and as a comrade, study tours organized by Zonta International, like the Latin American study tour of six Central and South American countries of Guatemala, Panama, Colombia, Chile, Uruguay, and Brazil in 1987. Her visit to the Vatican City was marked by what she considered the highlight of her travels- a meeting with Pope Paul VI. Efunjoke fed her adventurous tendencies visiting many parts of all six continents.
 
Family
Bankole Soluade, Efunjoke's father, was often on the roads, and her mother, who provided her a lively home experience was called Mamma Kekere (little mother) because of the presence of her own elder sister who was the Mamma Agba, meaning Mother the elder. Efunjoke was the last of eight children, among whom was Efundunke Odekunle whose teaching career, starting in Lagos, spanned 23 years in Kano with many important ladies from northern Nigeria passing under her tutelage. Her brother Jola trained as a lawyer in England. Daughter, Remilekun became an Engineer at a Telecom in Essex. Her name had been instanced by the loss at infancy of Ayo, child she earlier had with her husband, Damola.
 
Childhood
Some Saturday evenings were spent picnicking at Tarkwa Bay or Victoria Beach, bordering the Atlantic. Under its cool pine or casuarina trees children held their daylight and moonlight parties. Efunjoke loved drama and she played lead roles in school plays and other public performances. Through the beneficence of a Reverend Sister in St. Mary's primary school, she enjoyed exclusive access to a rich collection of literatures. This enhanced her self-image as her ability at school became more evident.
 
 
Affiliates
Efunjoke was Member of Council, University of Ibadan, President of the Lagos State Red Cross; Member of the Directorate of the National Youth Service Corps; Chairman of Golden Zee of the Zonta International Club of Lagos. She was also for a short while, Member of Council of the Yola Polytechnic.
 
Education
Following primary education at St. Mary's was a year at St. Teresa's High School. At thirteen she gained admission to St. Agnes's Teacher Training College Yaba, where she learnt to be a teacher. Though the decision to cut short her secondary education for the benefit of the training was opposed, she had insisted, and with her mother's blessings, had started the three-year course which led to a Higher Elementary Certificate. Through the maneuvering of her principal however, she was enrolled at the Queen's College, Yaba where she spent another three years before obtaining the School Certificate, earning an exemption from the London Matriculation. In 1949 she applied for a scholarship for further studies. Although she had originally ventured to obtain only the General Bachelors Degree in Mathematics, Pure and Applied and an Honours in English, she was persuaded into doing also the Masters. She returned to Nigeria therefore with a bag full of these qualifications.
 
Queen's College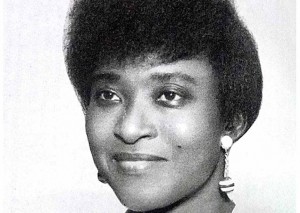 As principal, Coker's initial difficulty had been occasioned by her insistence on rules, and campaigns of calumny in the press had subsided before long. Shortage of manpower occasioned by often coming maternity leaves of teachers proved to be one of her most recurring challenges. Far removed from the unhealthy zealousness of green years, she had come to enjoy her principalship of the nation's most prestigious girl's secondary school. In 1972 after being diagnosed of "Kissing Spines" she had attempted to resign, but had eventually given five more years of her work which covered at the end, celebrations of the school's golden jubilee. She died at the age of 95.
 
Contemporaries
First Western region female Permanent Secretary Feleicia Akintunde-Ighodalo, first female Judge Modupe Akingbehin Omo-Eboh, Margaret Thomas-Young, Editor of Nigerian Post and President of Lagos Chamber of Commerce, were all seniors at Queen's College.
 
Motivation
Having inherited teaching from both her mother and paternal grandfather, Efunjoke's ambition had always been to run a school. She was nudged inevitably to this path by the Archbishop Leo Hale Taylor (1889-1965) who as mentor and elder friend said to her, "Stop feeling sorry for yourself. Get on with it." These words, Efunjoke recounts, were to rule the greater part of her life.
 
Accomplishments
Efunjoke was the only female member of the Unification of Services panel of General Ironsi, Commission of Enquiry into Student Unrest under General Gowon, and Conference of Principals on Discipline under General Obasanjo. In February 1979 she was honoured with the national award of the Member of the Order of the Federal Republic (MFR).
 
[1] My Life, Efunjoke Coker, Tisons Limited, Lagos, 2000