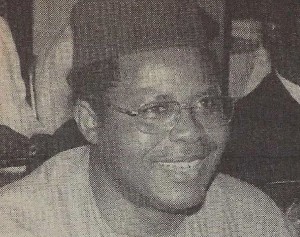 Ebitu Okoh Ukiwe; Nigeria's first chief of general staff. Ukiwe was military governor of Niger State, 1977-78, military administrator of Lagos State, 1978-79 and chief of general staff, 1985-86. A war generalissimo, Ukiwe pitched tent with the Biafran side during the 30-month-old Nigerian civil war, proving his mantle on the battlefield. However, after the war. he was re-absorbed into the Nigerian Navy in 1972. In 1986, Ukiwe, a man of unwavering principle, disagree with General IBB Babangida on issues and policies relating to the ethical, religious, political and economic life of the nation. And unlike some top military officer: who would stubbornly stay glued to their seats when unwanted in office, Ukiwe willingly opted out of the government of his own volition and retired with full military honours as a commodore in January 1987.  1
Growing Up
Ukiwe was born October 26, 1940 in Abiriba where he had his primary and secondary education at Church of Scotland Mission School and Enula College for his West African School Certificate. Subsequently he went for the higher school certificate. HSC, in Physics and Mathematics at the Seventh Day Adventist High School, Ihie.
Ukiwe attended Enuda High School, Abiriba, 1954-58; Adventist High School, Ihie, 1960; Nigerian Military Training College, Kaduna, 1960-61; Britannia Royal and Naval College, Dortmouth, UK, 1961-64; and Naval War College, USA, 1980-81.  2
In 1980 the search for the golden fleece began for Ukiwe when he travelled to the United States of America where he studied Strategy, Naval Science, Logistics and Operations in 1981 at the United States Naval College — The US Naval University, Newport, Rhode Island. Armed with masters in Defence Studies, Ukiwe arrived Nigeria in 198
Navy
The all-white uniform of the Nigerian Navy caught L'kiwe's fancy and in 1960, he joined the Royal Nigerian Navy as an officer cadet However, after the preliminary training in the Nigerian Military Training College. Kaduna between 15)60 and 1961, Ukiwe got admitted to the prestigious Britannia Royal Naval College, Dartmouth, England, after which his rise to prominence began through promotion during his naval career. As a brilliant soldier who had excelled in several courses in gunnery, torpedo, mine sweeping, navigation, and anti-submarine. Olusegun Obasanjo, the then Nigeria's military head of state, appointed Ukiwe as a member of the then Supreme Military Council in 1976. A year later, he was appointed the military governor of Niger State. And in 1978, he was redeployed to Lagos State as military administrator as well as commanding officer of the Apapa Nava: Base, NNS Beecroft.
Between 1981-84, Ukiwe held sway at the Nigerian Navy Faculty, Command and Staff College Jaji, Kaduna as the institution's first director a; well as a member of the Supreme Military Council during Buhari-Idiagbon regime. When Ibrahim Babangida assumed office as Nigeria's military president in August 1985, Ukiwe recorded another first in his military career when he was appointed as the nation's first chief of general staff of the Nigerian Armed Forces and the nation's number two man.
As a result of his immense contributions to his fatherland, the Ochiaga Ochimba of Abiriba was conferred with the Grand Commander of the Order of the Niger, GCON, in 1999 and doctor of Science in Public Administration by Michael Okpara Federal University of Agriculture, Umuahia.
1.  The News October 26, 2002
2.  TELL October 27, 2003