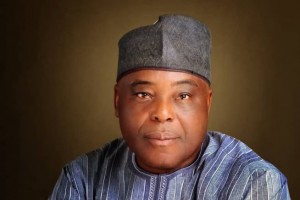 Dokpesi Raymond Aleogho; Nigerian media entrepreneur who in the early 1990s harnessed the liberalisation of the Nigerian broadcasting industry which allowed private ownership of radio and television stations in the launching of pioneer private radio and television broadcasting in Nigeria. Dokpesi, Chairman of DAAR Communications is a trained marine engineer, chartered transporter, shipping consultant, and administrator. His company's RayPower 100.5 FM radio station was the country's first privately owned radio station. A television station, African Independent Television, AIT was added in 1996.
 
Growing Up
Dokpesi was born on 25 October 1951 at lbadan into an impoverished family. Schooling started for him at Ebenezer African Church School, Ekotedo, ibadan; Loyola College, Ibadan; Immaculate Conception College, Benin City. As a child Dokpesi was a dreamer and his vision met with luck when he was offered admission as one of the pioneer students of the then Midwest Institute of Technology. While struggling to raise the 10 pounds sterling required as deposit for tuition fees, he came upon a Nigerian Ports Authority scholarship to study Marine Engineering in a Polish University.
Dokpesi went to Wyzssa Szkota Morska, Poland; and University of Gdansk, Poland. He emerged with a first class Bachelor of Science degree in Marine engineering, and went on to add Masters and Doctorate degrees in the same field. While in school abroad, he effectively combined study and activism, serving as president of numerous international student bodies across European. Dokpesi was an Assistant Lecturer at University of Gdansk, Poland, and was about settling to a career in the academics before he met President Obasanjo who talked him into returning home. Back home, in 1978, he joined the Nigerian civil service. Dokpesi joined the Ministry of Transport, on grade level 12 in 1978 and was deployed to the Ports Authority where he began to flourish.
DAAR
Dokpesi was thrusted into prominence by his business association with the trio of Chief M.K.O. Abioia, Major General Shehu Musa Yar'Adua and Alhaji Bamanga Tukur with whom he set up the African Ocean Lines, the partnership of which he resigned from in 1989. An observation made by Dokpesi while on a political campaign tour round the country gave birth to his zeal for private broadcasting. During the tour, he had noticed the dire lack of information and entertainment broadcast channels in the country. He decided to build his own private, then television station. Dokpesi's premier private broadcasting station was taken to the capital market in 2007. His DAAR Communications company especially the television arm were faced with adversities from security agencies.  In 2007, bulldozers of the Federal Capital Territory descended on the company's office in Abuja and demolished some structures for alleged violation of building approval plan, causing the company a loss of equipment worth over N2 billion.[i].
[i] Newswatch March 31, 2008