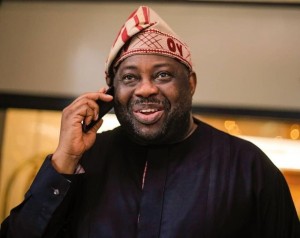 Dele MOMODU, Journalist and founder of Ovation, in 1996, a celebrity style magazine covering mostly West Africa, which features high life parties, and properties essentially with pictures. Dele Momodu is for several decades a successful writer and publicist, involving also in politics and activism at different times. Momodu was the head of MKO Abiola's media campaign for the June 12, 1993 presidential election. He was also campaign manager for Olu Falae under the coalition of the Alliance for Democracy (AD) and All People's Party (APP) in 1999. And in 2011, he unsuccessfully contested for the presidency under the National Conscience Party (NCP)[i].
Four days after the Nigerian presidential elections was annulled back in 1993 by the military government, Momodu and Gani Fawehinmi returned from London where he went to represent MKO Abiola, presumed winner. Shortly after the arrest of Abiola in 1994 he became a refugee in London, having crossed the border to Benin disguised as a farmer. From exile, he continued with the publishing of Ovation, and worked with Radio Freedom, that later became Radio Kudirat, under the pseudo name Saliu elenu gboro, he read the Yoruba news.
Childhood
At thirteen, Dele Momodu lost his father, the breadwinner of the family, necessarily jumping to the fray of the open stage of life, armed with nothing but the mentoring and support from his extended family members, many of them academics. His interest in studying his own ethnicity came from the discovery while working at CSS Bookshop, that only a very few graduates in Yoruba are produced against the hundreds who study Law or English[ii].
 
Family
Dele got married to former Miss Mobolaji Adaramaja on December 19, 1992 and they both raised four children.
Education
Momodu studied Yoruba from the University of Ife (now Obafemi Awolowo University). He took a Master's degree in Literature-in-English from the same university.
Travels
Momodu discovered Ghana while in transit to London as a fleeing refugee. Later, he relocated to Accra and established a Nigerian cuisine named House of Ovation.
Experience
Momodu's first job was to lecture at the Oyo State College of Arts and Science, also at Ile-Ife (1982-1983). He worked as Private Secretary to late Deputy Governor of Ondo state, Chief Akin Omoboriowo (1983-1985). He also managed Motel Royal Ltd, Ile-Ife, owned by Oba Okunade Sijuade, Olubuse II (1986). In May 1988, he relocated to Lagos in the employ of African Concord newsmagazine, a job that forced him to live in Lagos for the very first time. He, however, rose rapidly, becoming the news editor of the Weekend Concord. By the time he joined the Classique Magazine he was the highest paid Editor in the country.
Motivation
Though it appeared Momodu started off poorly, the effect of his family on him was immense that he could not have missed proper education. His half-brother, who has Ph.D in Physics from one of the best universities in the world was a model of success for him.
[i] Enterpreneurs.NG
[ii] Westerner September 28, 2009