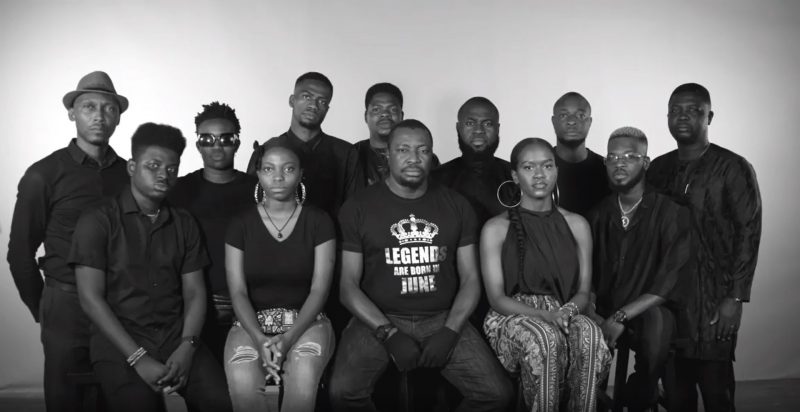 Pre-1990s
Comedians though inclined to borrow jokes unofficially from each other, never cease to amaze their audience with new jokes. It is believed by the professionals that comedy is even more challenging than singing because a musician can decide to be singing his hit tune, which people want to hear, for as long as possible but people's taste for jokes diminish over time. In the 1960s, Abiola popularized peacocky gele styles in her role as Madam Kofo on the television comedy, Second Chance[i]. Moses Olaiya, Baba Sala who would later be regarded as father of modern Nigerian comedy thrilled his audience with comedy plays in the 1970s through his Alawada Group International Limited[ii]. Wale Adenuga began publishing Ikebe Super projecting jokes and humour in 1976, a popular magazine with print run climbing to 560,000 before economic downtown of subsequent decade with a sharp drop in print run. Adenuga converted the story to Papa Ajasco & Company television series in 1997 on AIT[iii]. At this time, a consummate storyteller, Gbenga Adeboye had emerged, bestriding South-west Nigeria's entertainment industry as he quickly became a symbol of hilarious jokes and didactic stories[iv]. Basi and Company, a rested television comedy produced by Ghanaian, Kweku Bradford, thrilled audiences across the country in the 1980s[v]. While a student, Atuyota Akpobome, Ali Baba had neglected to be a lawyer in favour of a career in comedy. It was 1988 and not many people thought he was serious or should be paid for making them laugh as a standup comedian[vi].
 
Comedy Careers
Shows
In the quest to do other things asides filmmaking, Opa Williams had started in 1995, a successful and long lived show, Night of A Thousand Laughs. At the time he created the show, there were only a few stand-up comedians in the country. Even then, they operated only in the radio and TV stations. The list included Mohammed Danjuma, Leo Owode, Smart Orhutemu, Ehiz, Julius Agwu, Okey Bakassi, Sam Loco Efe, Baba Suwe, Papiluwe, and Alarm Blow. Most of them however were not real stand-up comedians. Alam Blow was just a Master Compere, Leo Owode was just good on radio, Baba Suwe and Papiluwe were acting in Yoruba films. While early and informal performances by Okey Bakassi spurred Williams into creating Night of A Thousand Laughs, his visits to a comedy bar based in New York had yielded the idea to weave the event around a group of stand-up comedians[vii]. Okey Bakassi became a consummate actor and did more than 50 home videos with half being comedy movies. He owns Tribal Marks Initiative, an events management company on Victoria Island. Julius Agwu has also done a dozen. He also runs "Reel Laif Music" and "Reel Laif Ltd," an events packaging and artiste management company, which also provides equipment and manpower for events[viii]. Tunde Adewale Tee A introduced innovations into the art that brought him success. He holds the credit of pioneering the one-man stand-up comedy show in the country with his Live 'n' Naked show in 2000, which became a catalyst for subsequent comedy shows in Nigeria[ix].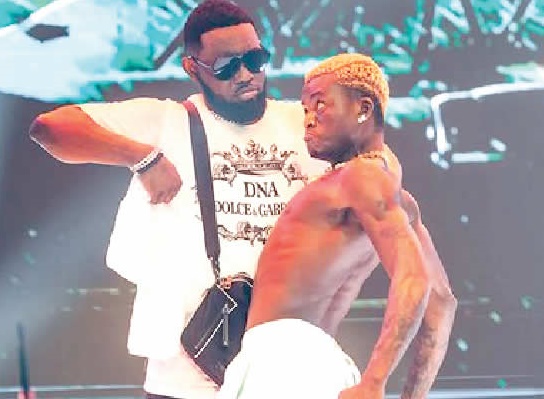 Skill and strides of comedians
The story is told of how Jude Abaga MI, who would later achieve renown with rap music up made a failed attempt at comedy that caused him fever, while coming up[x]. Around this time, the irony had become palpable that some of the highest paid were comedians, indicating there is a lot of creativity and a large market in comedy[xi]. Ali Baba had become the official comedian to the President of the Federal Republic of Nigeria, high net-worth individuals and multi-national companies. The other comedians also had gained clients that spread across Nigeria and beyond. For instance, Julius Agwu was on the entourage of the federal government to Sao Tome and Principe as official comedian.  To keep fans constantly amused, the comedian read all magazines and newspapers and observes a lot like Agwu, Tee A and Babyface. Adeyinka browsed the internet, listened to people and read comic books, Tee A and Agwu likewise. Funke Akindele would rather drive through the traffic, watch people and mix with touts. Ali Baba and Agwu relied more on spontaneity and interaction with the audience, observing people's mannerism and character which to them was an untapped source of jokes for any comedian.
By 2006, comedians like Gbenga Adeyinka had become important enough to be rated among 100 most influential Ogun State indigenes alive. His family, like those of his other colleagues had hesitated to support, warning that he must not "soil" their name in the quest for fame[xii]. His LaffMattaz magazine, reminiscent of Wale Adenuga's Ikebe Super, had as a guest columnist, Ayo Mayokun, at the time, personal assistant to Alli Baba. Ayo Mayokun who would later become a comedian brand in his own right, hosting a comedy show AY Live[xiii], which was voted best of the Year, 2011-2014[xiv]. With stand-up comedy and production of television programmes, Bovi Ugboma, a one-time personal assistant to actor Richard Mofe-Damijo, influenced by Basket Mouth, rose from relative obscurity to popularity[xv].  Comedy was already well established that media guru, Mo Abudu had included a Comedy Talk Show in her Ebony Life TV, when the media venture was launched in an impressive event in 2013[xvi]. Africa Magic Viewers Choice Awards for Best Actress in a Comedy in 2014 and 2016[xvii], Funke Akindele, is Lagos State Deputy-Governor candidate under the PDP for 2023 elections.
Comedy in other entertainment genres
As comedy became regular part of the home video, Zeb Ejiro discovered Ada Ameh, a versatile comedienne and actress who spoke Idoma, Ibibio, Yoruba, and Igbo[xviii]. Victor Agwu, also an actor in the comedy genre climbed steeply to become an icon adored both at home and abroad[xix]. Another known name, Asunramu-Alao joined the trend in 2013 when she announced that she would be appearing in a comedy movie casting the best in the industry[xx]. In 2016, host of Etisalat sponsored radio talk show; Eniola Badmus started to make skits on her YouTube channel and Instagram. In same year, radio personality Chinedu Emmanuel became an overnight Instagram sensation with his Sister Nkechi skits[xxi]. As more success was recorded, ambition to veer into more than standup comedy arose. After doing standup comedy for eight years, Tee A took the decision to stop and consider other subgenres. There was nobody doing a syndicated radio comedy show like Steve Harvey did abroad and there were no comedy movies, according to him[xxii]. There was though a comedy soap opera entitled Face to Face, which ran on selected television station in Nigeria and on DSTV[xxiii]. With time it became instructive to add a little bit of comedy into acting or music. Rap artist, Folarin Falana, with his alter ego by the name of Brother Taju added comedy to his music but would not identify as a comedian[xxiv].
 
[i] Vanguard, September, 30, 1995
[ii] Newswatch, March 8, 2010
[iii] Westerner, May 11, 2009
[iv] TELL May 12, 2003
[v] TELL, Novemmber 29, 1999
[vi] TheNews, March 31, 2008
[vii] Punch, May 22, 2015
[viii] TELL January 5, 2004
[ix] TELL, May 3, 2004
[x] Newswatch, February 20, 2102
[xi] The Week, September 15, 2003
[xii] Punch, July 20, 2006
[xiii] Punch, April 8, 2012
[xiv] Tribune, March 29, 2014
[xv] Newswatch, August 29, 2011
[xvi] Punch, July 10, 2013
[xvii] Punch, October 16, 2016
[xviii] Punch July 20, 2013
[xix] Guardian June 29, 2013
[xx] NATION, May 26, 2013
[xxi] Punch July 24, 2016
[xxii] Punch, June 8, 2013
[xxiii] Westerner, August 9, 2010
[xxiv] Punch, June 11, 2017