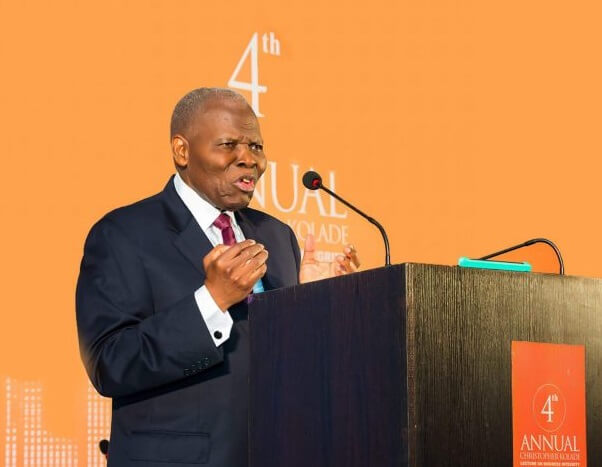 Christopher Olusola Kolade; described by his biographer as  a subject that embodies the healthier, sterner, firmer fibre of the nation's soul, Kolade was from 2002 to 2007 the Nigerian High Commissioner to the United Kingdom. Before this appointment, he had a distinguished public career starting out in 1955 as Education Officer in the Ministry of Education in the Western Region. His time with Segun Olusola  in the Nigerian television industry is widely adjudged as seminal and he chaired the occasion by Awolowo Foundation marking 40 years of television in Nigeria i.Matthew Kukah, a monsignor in the Catholic Church complained nothing came out of the panel chaired by Kolade that was mandated to look into the nine-month rule of General Abdulsalami Abubakar, eventhough there was enough to nail numerous persons iv.
 
Teaching
Kolade taught that the most important factor in management is the person of the manager. For that reason, he believes, the values and character of the manager are central to decision-making. These values and character are developed as the manager builds up knowledge, skills and insight. He stated at the 1994 lecture at the Harvard Business School Nigerian Association that these attributes and competencies need to be continuously maintained and sustained through  the changing dynamics of the business environment in order for the manager to remain relevant ii. A member of Dr. Christopher Kolade-led Integrity Club of Lagos, 36 year old Okon Joseph Uwah returned a compromised 20 million naira cheque to the oil company which issued it in 2000 iii.
Personal Life
Christopher Kolade was born on December 28, 1932 in Erin Oke, Osun State. He attended Government College Ibadan and Fourah Bay College, Sierra Leone, where he earned a Bachelor of Arts [Dunelm] in 1954. He was awarded an honorary doctorate of Civil law from the University of Sierra Leone in 1976. Christopher Kolade is married to Beatrice Egochukwu Ukogu and has two sons.
Career
Christopher Kolade joined the Nigerian Broadcasting Corporation (now Federal Radio Corporation of Nigeria FRCN) as the Regional Controller and later became Director, Television and Programs. He was appointed Director-General of the Corporation. He moved over to the private sector in 1978, starting out as the Administration Director, Cadbury Nigeria Limited. He rose to be the Managing Director, then Chief Executive Officer and eventually Chairman. He taught Corporate governance, human resource management and leadership at the Lagos Business School from 1995-2002.
 
Kolade was involved with the Nigerian Institute of Management (1985 88), the International Institute of communications (1973-75) and the World Association for Christian Communication (1975 82),  olding leadership positions in all of them. He is a member of the Metropolitan Club, Lagos and the Lagos Country Club, Lagos. He served as organist and choir-director at St. Peters Church, Faji, Lagos.
Kolade was among the icons of business integrity movement who defended values of corporate governance at the peak of military era in 1997, a group which included Akintola Williams, Ambassador Gabriel Olusanya, Dr. Michael Omolayole, Surveyor Adekunle Kukoyi and Prof. Pat Utomi v. Chrstopher Kolade was mentor to Owu royal, Olusanya Adegboyega Dosunmu vi.
Dr Kolade was conferred the Order of St Augustine award by the Archbishop of Canterbury. He was installed as lay canon of Guildford Cathedral, DCL and is also a Commander of the order of the Nigeria. He is a board member of CSS Bookshop, Cornerstone Insurance and Turning point newspaper. He is a former president of the Food and Tobacco Employers association and is the chairman of Systemspecs, one of the nations leading software establishments. Dr. Kolade became an icon in the Nigerian business community. Kolade advocates a habit of lifelong learning. His believes in leadership and accountability is documented in a 3-volume biography edited by Richard Ikiebe, a senior faculty member at the School of Media and Communications, Pan-Atlantic University, Lagos.
 
i. TELL November 29, 1999
ii.Guardian July 6, 2013
iii.TELL May 8, 2000
iv. Newswatch August 10, 2009
v. Guardian June 29, 2013
vi.The News October 13, 2008