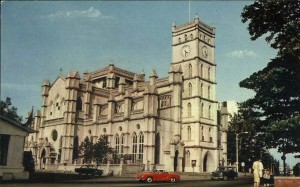 Christ Church Cathedral is an Anglican Church building, located at the interaction of Marina Street and Odunlami Street in Lagos Island. It dominates a very busy vehicle node (as opposed to a town square) and it overlooks a bustling harbor. Christ Church cathedral was designed and Began Benjamin, a Yoruba Sierra Leonean returnee, started the construction work in 1925.
The foundation stone of white marble from New Castle-on-Tyne was laid by the Prince of Wales (King Edward VIII). Also present at the occasion was then Governor of Nigeria, Sir Hugh Clifford. The majority of the materials used were imported from Liverpool. The windows were ornamented with different scenes, which depict the Christian faith.
At the Marina end is a tower. It has vertical columns, vaulted ribbed arches and flying buttress. The building is in perfect condition. The condition work was finally completed May 1946 while the third and final dedication took place 1947. This church is in the style of the late eighteen-century European Gothic Renaissance.
The Cathedral Church of Christ, situated in the heart of Marina, a busy suburb in Lagos, is one of the oldest churches in Nigeria. On March 29, 1867, the church moved from Oko Faaji to Eyin Igbeti which was a fallow ground. James Abraham, successor to Bishop Crowther who was seconded to England, led the congregation in performing the sod turning, which was followed by the erection of the first church building. The structure of the gothic building has not changed ever since the building was completed in 1946. What became the magnificent grey and white building was constructed in gothic style by a Nigerian.
When Queen Elizabeth visited Nigeria in 1956, she worshipped at the Cathedral Church of Christ and she brought a chair with her which has the British Royal insignia, now the seat of the provost of the cathedral. The church, which held special concert in celeberation of Nigeria's independence in 1960 was also the site of the wedding of Head of State, Lt. Colonel Yakubu Gowon. It also houses the body of Bishop Adai Crowther which was exhumed from Ajele cemetery where it was first buried. Relationship with the seat of power of the Church of England was impaired due to the Church of England's stand on marital issues, with the cathedral maintaining the orthodox position that marriage should be between a man and a woman.