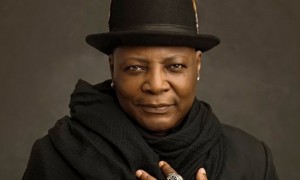 Charles Oputa; Nigerian eccentric entertainer, often appearing with a scarf tied round his neck, nose and eyelids pierced and fixed with big earrings. Oputa, the first son of Chukwudifu Oputa, highly revered Justice of Supreme Court attended Suffolk University, where he read Mass Communication, majoring in speech communication. He was at Emerson University for his master's programme, with bias for radio and television. The Charly Boy Show, which aired on NTA 2 Channel 5 in 1991 featured the interview of eminent personalities and contributed to the prominence of his art which got its big break in the late 1980s. When in year 2000, Charly Boy battled the Nigeria Television Authority NTA over alleged copyright infringement, a grand show of solidarity was made for him by a large numbers of artistes and musicians who trooped out to the high court[i]. Charly has the uniqueness of being familiar with both the down-trodden in the street and those in the highest authority in the land.
 
Places of Growth
Charles Oputa was born 19 June 1950 in London or Port Harcourt. When his father, Chukwudifu Oputa was made a judge in about 1967, just before the Nigerian Civil War, young Charles  moved with his family from Port Harcourt to Enugu. While the war was on, he was moved to Onitsha. By the time the war was over the family was in the village in Oguta, from where they relocated to Owerri, and Aba. Incessant mobility meant frequent change of schools for Charles both at the primary and secondary level.
Childhood
Charles and his siblings grew up in a liberal home which allowed freedom of expression. Home was run like a run like a law court and any wrong would be addressed clinically by his father who was a lawyer. As a school kid Charles was cantankerous. At home were urbane parents who often did ball room dance together. There was plenty of music and Charles got a gift of a piano when he was seven.
Family
Charly Boy got married to Diana, his wife and mother of three of his children in 1982[ii].
Education
Charles Oputa went to Emerson University where he obtained a bachelors degree in Mass Communication, followed with another degree in Sulffork. He was also in Harvard University for a diploma in business administration.
Music
With his African-American wife, Charly Boy created a knowing brand, with which forms a tenacious feature of his music. His album titled 1990, which was released in 1988, is bordered on a corrupt military government, which was expected to hand over power to civilians in that year[iii]. Charles Oputa became the president of the Performing Musicians Association of Nigeria, PMAN in 2003. Through his motorcycle scheme, Oputa gave out hundreds of motorbikes in a grand scheme to alleviate poverty.
[i] Tell May 8, 2000
[ii] Tell July 26, 2004
[iii] TheCable June 19, 2020