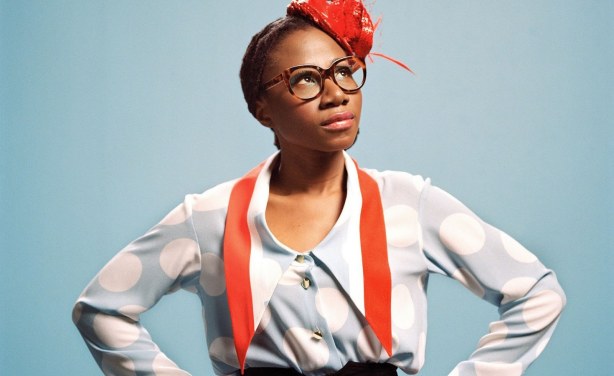 Asa, real name, Bukola Elemide, was born 1st September 1982, in Paris France to her Nigerian Parents. The Nigerian French singer and song writer has been able to fuse the Nigerian Yoruba language and English together perfectly, bringing out a wonderful style that falls between pop and soul.
After being born in 1982, she spent two years in the country before being brought to Nigeria by her parents who decided to return back home. Asa grew up in "Alagbole", in Lagos state the western part of Nigeria. Growing up in a family of four children and being the only female child, the responsibility of caring for the home in the absence of their parents fell on her, and it was during this time she discovered her love for music. Asa did house chores singing and listening to her father's records. As she listened to the likes of Fela Kuti, Bob Marley, Aretha Franklin, King Sunny Ade, Ebenezer Obey, she grew up loving them and dreamed of following their footsteps.
At age 18 and in the university, Asa was already singing, but hadn't taught of going professional. Unfortunately, the school went on strike, and choir members weren't too friendly. The wait became unbearable and frustrating, she'd lock herself in her room and just sing away, an act she found comforting. During this time, Asa was able to get into a few talent shows and eventually, secretly enrolled at the Peter Kings School of Muse, where she learned to play the guitar in 6 months.
In 2004, Asa met Janet her friend and manager, who introduced her to Cobhams Emmanuel Asuquo, who in turn became her musical partner and producer. Cobhams unlike most producers who didn't understand Asa's Low-pitched voice, gave her room to breathe, he allowed her the freedom to express herself however she pleased; which eventually helped her find her bearings. Asa working side by side Cobhams her producer, released a couple of singles, which was enjoying a good amount of airplay, when she decided to return to Paris, her birth place to try out her talent. In Paris she met Christophe Dupouy who got involved in her music. Still in partnership with Cobhams she signed under Naïve Records, with the involvement of Christophe, she released her first album, which was a huge success, it afforded her the opportunity to win the prestigious French Constantin Award in 2008 where she was voted best French talent of ten singers, by a jury of nineteen music industry specialist in Paris.