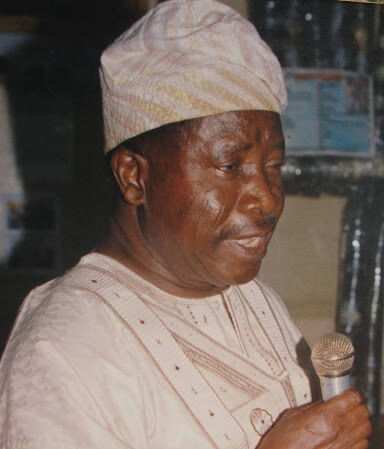 Bola Babalakin; Justice of the Supreme Court of Nigeria in 1992. Babalakin chaired before this appointment, the Judicial Commission of Inquiry set up in January 1987 by military government of General Ibrahim Babangida to investigate the Federal Electoral Commission.
Origin
Grandfather, Adeleye shared ancestry with the Owu who moved from the first Owu kingdom southwest Ile-Ife and northwest Ijebu to Modakeke in the latter part of the 20th Century[1].  Among the Ogunmokun family which he belonged were warriors, hunters, prosperous farmers, and traders. In the last two particularly, Adeleye prospered. He brought up his male children, including Yesufu Adeoye, who was Bola Babalakin's father, to master cocoa produce and transport business. Adeleye had four wives, the first of which was Bola's own mother, Rekiatu Ajoke Oke from the Ogunsua ruling house of Modakeke.
Places of Growth
Bola spent his childhood living and schooling in Isale Oja, Gbongan, Osun State. From the age of six he went to St. Paul's Central School, Gbongan. Holidays were spent with uncles overseeing grandfather's business in Ibadan. He relished the modernity being introduced with increasing presence of colonial administrators.  While still a child, he worked as a clerk at his parent's produce stores in Gbogan but continued school at Oduduwa College, Ile-Ife after his father who was having money problems at the time got prompted by a produce examiner who believed it was best to have him trained. Bola lived during his first year at Oduduwa College with his maternal grandmother, a pagan Sango worshipper, at the Ogunsua compound in Modakeke, near Ile-Ife.
Childhood
Though the impetus was quite unclear, Bola did coordinate his peers in a contributory fund or esusu, as a child. For this reason he was popular with parents who saw him as good influence on their kids. A school essay which he wrote in 1940, "My School Farm," was assessed by a visiting expatriate Examination Officer and declared the best in his class. Putting his experience at the Oduduwa College to use, Bola organized sports and drama activities at Gbogan. This served to entertain and keep friends busy, ultimately influencing some of them into choosing the same college.
Family
While in Zaria, Babalakin met Ramotu Ibironke Gbadamosi, trained-nurse daughter of the Chief Mechanic of Zaria Emirate Council, and faithful of the Ahmaddiyya sect.  On 26 December 1949 they got married. Their first two children were born in Gbogan, where his wife lived with his parents. They had nine in all, four of which were deceased in their prime. The fourth born, Wale rose in his legal career to become a Senior Advocate of Nigeria. The fifth, Oyinlola trained as an Architect and started a concultancy firm which spreaded to Ghana and South Africa. The seventh and eighth child were medical doctors and the last a chartered accountant. After fifty-five years of marriage, Babalakin lost his wife, Ramotu in 2004.
Career
Bola Babalakin was admitted to Lincoln's Inn in June 1956. By the end of 1959 he had become a Solicitor and Advocate of the Supreme Court of Nigeria. He entered the Nigerian Civil Service in 1946 as Agricultural Assistant Trainee at Moor Plantation, Ibadan. In the same year he moved to the Forestry Department as a third class clerk. He worked in the Accounts section of the Conservator's office till 1952 when he was temporarily posted to man the difficult Kaduna office. In the same year he earned promotion to the first class clerk grade.
After training as a lawyer, Babalakin started to read at the Chambers of Justice Ogunkeye in Ibadan from the first day of the new year 1960. By July he opened his own Bola Babalakin & Co. chambers. He was in private practice till October 1975 when he was appointed Judge, Western State High Court. He was elevated to the Court of Appeal in 1984. He was appointed to a Supreme Court udge in March 1991. Bola Babalakin retired as Justice of the Supreme Court in 1992.
 
Contemporaries
Afe Babalola SAN, who was one of Nigeria's most successful lawyers was acquainted with Babalakin from Gbogan before travelling out to read law and it was he, Babalakin, who ceremonially opened his chambers. Justice Orojo, a colleague appointed same day to the Westerb State High Court in 1975 became Director General of the Nigeria Law School and Chief Judge of Ondo State. Counsel to the Commission which he chaired in 1991, F.O. Ogunshola later became Chief Judge of Osun State.
 
Affiliates
Babalakin was the Secretary of Egbe Omo Oduduwa Zaira branch late in the 1940s, he was likewise elected secretary at the Kaduna branch. He also served as secretary to the British Council Kaduna. He resigned his appointed to further his studies in the U.K. in 1955. He served as President of the Rotary Club 1973-74. He was the chairman of the governing council of Oyo State colleges of education in Ilesha and Ila-Orangun. Babalakin is a foundation member of the Muslim Association of Nigeria.
[1] Fulfilling Destiny, Justice Bola Babalakin, B&C Publishers, Lagos, 2007