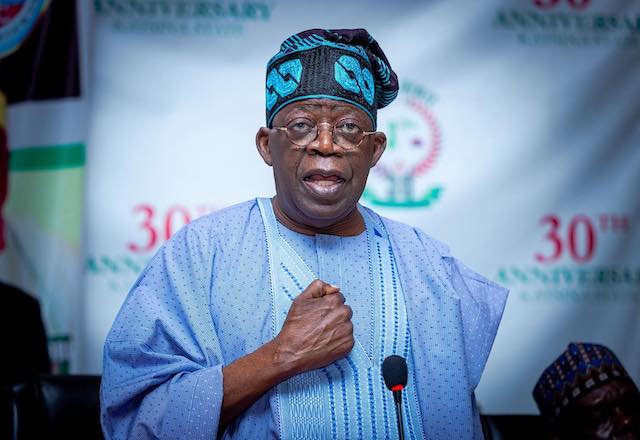 Bola Ahmed Tinubu; politician and leader of the opposition to ruling party PDP from 2003 till transfer of power to the APC in which he is the acclaimed national leader. Tinubu is known by aliases Asiwaju, meaning "Leader", and the title Jagaba bestowed by the Emir Borgu in Niger State, which means "Leader of the warriors". He was the governor of Lagos State, 1999-2007 as well as the leading factor in Lagos politics since 2007. Tinubu was sworn in as 16th President of the Federal Republic of Nigeria on May 29th 2023.
Born March 29 1952 in Lagos, Tinubu was educated at the Chicago State University, Chicago, United States. Tinubu worked in the United States with Arthur Anderson, Dolethe Haskins, and Sell; GTE Services Corporation and Consultants, and Fortune 500 Group. He was later appointed Seni or Auditor, Mobil Oil Nigeria Limited. Tinubu started his political career as a senator in 1991. He was selected governor of Lagos State in 1999 and re-elected in April, 2003, on the platform of the Alliance for Democracy, AD, dominated by followers of Awoism. Tinubu is a founder and leader of the Action Congress, later known as Action Congress of Nigeria, ACN[i]. Following his survival of the ruling party invasion of the south west region in 2003, Tinubu became one of the new power brokers in the country whose political task was to rebuild his battered party. It is said even at this time that he has acquired enough experience on the field that will last a lifetime[ii]. By 2007 Tinubu was second of the only two serving governors who supported the ambition of Atiku Abubakar (the second being Haruna Boni who was governor of his home state, Adamawa) in the Vice President's bid to succeed his estranged boss, President Obasanjo[iii].
As national leader of the APC which inherited elements of his own ACN and General Buhari's CPC, Tinubu counselled the so called progressive bloc to exercise caution when its members were invited to participate at the national conference which he described as a decoy meant to divert attention from President Jonathan's alleged non-performance. At the end, Tinubu was vindicated as nothing concrete came out of the jamboree[iv]. In his admission, several Nigerian politicians had actualized their ambition with his support. Days after this apparent outburst triggered by the rigors of the party presidential primaries he emerged presidential candidate of the ruling All Progressive Congress, APC by winning 60 percent of the vote.
 
Family
Abibatu Mogaji (191-2013) was a political activist and frontline leader of the Association of Nigeria Market Women/Men. As a follower of Obafemi Awolowo politics, activism elevated her from unpriviledged birth and unremarkable marriage into prominence. As a grassroot mobilizer she is known to have prevailed on Lagos market women on occasions to reduce prices of items in public interest[v].
Bola Tinubu, a muslim, is married to Oluremi, born in 1960, a Christian who was herself elected as a senator from Lagos State in 2011[vi].  Like her husband, she evinced welfarist tendencies exemplified by her sponsorship for many years of the New Era Wheelchair Tennis Championship[vii].  As a senator, Oluremi Tinubu sponsored a bill to provide social security for elderly citizens[viii].
 
Before Governorship
Tinubu was dragged into politics during internal struggle by Tajudeen Olusi and allies at the Social Democratic Party, SDP for the candidacy of Dapo Sarumi for Lagos governorship. Through Kola Oseni, the group secured financial help from Tinubu who was working at Mobil. On two occasions, Tinubu assisted the group. He was subsequently co-opted in the race, through the recommendation of Olatunji Hamzat, for the senatorial seat of Lagos West.
Tinubu, a NADECO chieftain, was a noted supporter of Moshood Abiola, the man Nigerians elected their president who died in detention. Like Abiola, he is a vivacious man who made friends in strange places, comfortable in the circles of Aliko Dangote, Lebanese businessmen, and the puritanical precinct of the Afenifere chieftains.
In 1998, Tinubu was warming up for the senate until the Afenifere leaders of Ijebu origin advised he signified interest in the gubernatorial race. The only dissenting voice was Dawodu who had favoured Funsho Williams for the seat[ix].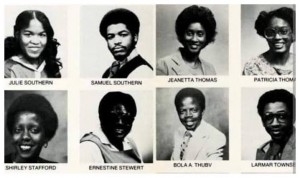 Lagos Governor
First Term
 
Tinubu drew the anger of influential AD party elders early on by appointing political outsiders to ministerial positions, many of which were independently attested to be of high caliber[x]. Yemi Osinbajo, a man of remarkable erudition who is to become Vice President served in 1999 as secretary of a think-tank and Transition Work Group convened by Tinubu when he was newly elected as governor[xi].
Tinubu's first term as Lagos State governor is remembered for his effort to entrench himself in the consciousness of the people through projects like free eyes glasses scheme, milleneum school buildings, payment of examination fees, and free ambulance services. The state government also made inroads in the area of road construction like the dualisation of former Jakande Oregun Road. His tenure is also memorable for the independent power generation project, and free medical services[xii]. 75% of residents in Agege area, in one account, have children attending the milleneum school built by Tinubu[xiii].  In June 2004 Tinubu was given the award of excellence by the Nigeria-Canadian Chamber of Commerce, second recipient ever after Bola Ige, for his path-breaking policies in the area of infrastructural development, environmental sanitation, healthcare and improved medical care for the less privileged, policies in the education sector, especially in the deregulation of the sector and the return of mission schools[xiv].
Kofoworola Akerele-Bucknor, lawyer and former presenter at the Voice of Nigeria who was also elected to the senate like Tinubu in 1991 served as Deputy Governor to him in the first term[xv] before resiging her position and subsequent selection of Femi Pedro, a banker[xvi].
 
Criticism of first term
Tinubu on assumption of office in 1999 took it as challenge to fight the Lagos perennial enemy ; environmental pollution. He started by introducing highway managers, Drain Ducks (Lagos state owned environmental agency), and involving the private sector in refuse disposal. The metropolis of Lagos however did not reflect the efforts[xvii]. On the occasion of the return of activist Tony Enahoro to Nigeria, from Abacha provoked exile, Tinubu and his entourage was held hostage by students of the Lagos State University who claimed their lecturers have not been paid. The angry students, provoked by the celebration of the ostentatious Eyo festival of the past months sponsored by the Lagos State government mounted his car in a show of defiance. Tinubu shut down the university indefinitely that same day[xviii].
 
Issues with Federal Government
Tinubu's vision for Lagos were occasionally at variance with that of the Federal Government such that its federal allocation was not released for a protracted period because of the state government's creation of new Local Government areas designated as Lagos State Development Council Area, LSDCA. Petty rivalry with elements of the ruling party portended a problem also when the minister for Works, Adeseye Ogunlewe deployed 450 men as Road Safety Corps on Lagos federal highways apparently to rid the roads of the two state owned traffic and environmental agency corspsmen , LASTMA and Kick Against Indiscipline[xix]. More importantly, Tinubu contested the National Population Commission's census of 2006 which underestimated Lagos population figures to entrench the parallel state government exercise report which showed that 17,552,924 persons live in the state[xx].
On September 21, 2011, Bola Tinubu was arraigned by the Code of Conduct Tribunal, Abuja in court over allegations that he operated foreign account during his tenure. One of the two witnesses brought forward by the federal government was Ibrahim Magu, at the time a staff of the Economic and Financial Crimes Commission, EFCC in Abuja[xxi]. Magu was later appointed chairman of the commission.
 
Second Term
The share of oil revenues that Lagos state receives from the Federal Government is far from sufficient to run a city state of its size. In 2002, the state personnel cost alone exceeded its statutory allocation. This makes a stark contrast against the over-independence of urban governance on monthly allocation from the federation account and self-evident lack of transparency occasioned for instance with the budgeting of 1 billion naira in 1998 for street lights around Alausa seat of government while the rest of the metropolis had none[xxii].
Tinubu on February 7, 2006 turned the sod for the first phase of reclamation of the popular Lagos Bar Beach in the drive to turn the Atlantic Ocean end of Victoria Island into a tourist haven[xxiii]. It was a mere consensus of Lagosians when Rauf Aregbesola, one of the non-indigenes Tinubu brought into his government, said that the Tinubu team had transformed the environmental landscape and redefined the standard of road construction. Tinubu's governorship is remembered for his amazing ability to source source and manage funds[xxiv].  Traffic laws made made at the opening of Tinubu's second term which people initially reacted vehemently against became the bedrock for the sensitization of Lagos. Also, laws against street hawking, trading, and illegal markets were promulgated in 2003[xxv]. Tinubu emerged recipient of the THISDAY Newspaper's Governor of the Year 2006 when he defeated six other governors to clinch the award which he described as a victory for courage[xxvi].
Criticism of Second Term
Tinubu's greater need to protect himself from the aggressive national ruling party PDP tactics superseded his will to contain area boys who proves helpful in spite of their alleged propensity to harass in the most populated downtown quarters of the urban.
 
Politics & Controversies
Olagunsoye Oyinlola, ex- Osun state governor and former military administrator of Lagos State under military Head of State General Sani Abacha threatened to expose Tinubu following a run-off election in Osun State he alleged to have been disrupted by thugs hired by the Lagos elected governor. Oyinlola's outburst followed the media attack on him by the opposition party, Action Congress. Tinubu's ally, Rauf Aregbesola was defeated by incumbent Oyinlola in 2003 Osun state gubernatorial election, but this was upturned eventually when Aregbesola claimed his mandate through legal means, effectively stopping his rival's attempt at securing a second term of office[xxvii].  Years before this, Tokunbo Afikuyomi, a fellow returnee with Tinubu from exile who became senator had taken the blame for mistakes he made when filling the INEC form on behalf of the then governor-to-be when he asked him to close his eyes and sign the papers[xxviii]. This was the nucleus of the controversy which persisted around Tinubu's age, but Tinubu is known to have declined the application of a party chieftain, Olatunji Hamzat to a commissioner post because the second republic commissioner for transport was older and he felt uncomfortable  ordering him around[xxix].
 
Legacy & Philosophy
Lagos annual tax revenue rose from approximately $190 million in 1999 to over $1 billion in 2015. These additional funds were used to build and maintain roads, clean up the city, improve security, and introduce new public transit options into Lagos' notoriously congested and unruly urban transport system. While many domestic and international observers give credit primarily to the leadership of successor, Babatunde Fashola, many of Fashola's most significant initiatives began in the administration of Bola Tinubu[xxx].
Tinubu in an essay titled Slump in Oil Prices: a progressive way out argued that austerity measures proposed by President Jonathan government will further enrich the affluent. The measures, he said, will put more Nigerians into hardship. Tinubu believes austerity measures embarked by some countries in the Eurozone had not solved their economic problems since global financial crisis set in[xxxi]. In another instance, Tinubu argued in his demand for improved protection of oil pipeline that the excruciating pain of hunger and poverty could be tempting, hence lead to vandalism and economic sabotage[xxxii].
[i] Newswatch April  2, 2012
[ii] The News April 28, 2003
[iii] TELL January 8, 2007
[iv] The NATION December 2, 2014
[v] Guardian  June 26, 2013
[vi] The News October 4, 2012
[vii] Westerner May 11, 2009
[viii] Punch May 2, 2015
[ix] TELL January 8, 2007
[x] Governing Lagos: Unlocking the politics of reform, Diane de Gramont, Carnegie Endowment for International Peace, 2015
[xi] The NATION December 23, 2014
[xii] The News April 28, 2003
[xiii] Punch May 19, 2015
[xiv] TELL June 28, 2004
[xv] Newswatch May 4, 2009
[xvi] Tribune October 9, 2010
[xvii] TELL June 28, 2004
[xviii] TELL April 24, 2000
[xix] Insider July5, 2004
[xx] TELL February 19, 2007
[xxi] Newswatch October 3, 2011
[xxii] Guardian July 2, 2007
[xxiii] TELL April 1, 2006
[xxiv] The News April 16, 2007
[xxv] PUNCH June 10, 2016
[xxvi] TELL February 20, 2006
[xxvii] Westerner May 18, 2009
[xxviii] The NEWS October 4, 2009
[xxix] The NATION December 2, 2014
[xxx] Governing Lagos: Unlocking the politics of reform, Diane de Gramont, Carnegie Endowment for International Peace, 2015
[xxxi] The NATION December 25, 2014
[xxxii] Newswatch May 29, 2006