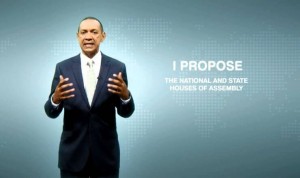 Benedict Murray-Bruce; Entertainment entrepreneur, music promoter and director-general of the Nigerian Television Authority, NTA under President Obasanjo. A man of tremendous style and charisma, Ben Murray-Bruce's era witnessed a flurry of unprecedented activities. For example, the authority's growth policies resulted in the birth of over 65 stations around the nation. The authority also introduced digital transmitters and computerized its studio facilities during this period. He became senator of the Federal Republic representing Bayelsa-East senatorial district in the red chamber of the National Assembly. During this time of his political adventure he was known for his short video commentary on current affairs of the nation titled Common Sense[ii].
Murray-Bruce had his secondary education at St. Gregory's College, Lagos before proceeding to Simpson College, USA; Iowa State University, USA and University of Southern California also in the United States[iii].
Family
There is hardly any other family in Nigeria whose activities revolve around entertainment the same way the Murray-Bruses do, No one else in the family represents this fact more than Ben, who gave the country its place in African music and pageantry. Ben who is second among ten siblings is the most visible. He lost his wife of 41 years, Evelyn, to cancer in 2020. Ben Murray-Bruce was born  February 18, 1956. His family and that of Dr. Christopher Abebe, Stella Obasanjo's father were friends. The Murray-Bruces grew up together with the Abebe family.
Silverbird
Murray-Bruce began his foray into entertainment with a N20.000 loan and a small space he acquired in his father's office. He delved into business by introducing, in the early 80s, what he aptly christened Roots, Rock and Soul. With the assistance of his big brother, Michael, the Managing Director of Domino Group, he set up Silverbird with the desire to provide all- round entertainment. Between 1980 and 1983, Silverbird organised 20 big time music festivals in Lagos, Benin , Port Harcourt and Ife. Musical groups like Shalamar and Dynasty and Evelyn King were on hand to entertain appreciative Nigerians. That is not all, Ben's Silverbird Travel made unprecedented inroad into the tourism industry by organising classy tours across the Far East and beyond[iv].
The country continued to make inroads into the international social circuit due to Silverbird. Apart from bagging the rights to take part in Miss world, rights which Times Leisure Services lost in the 1980s. It soon instituted its own unique beauty pageant, known as the Most Beautiful Girl in Nigeria. It was this pageant that served as the platform for Agbani Darego to contest in 2001 for the Miss World which she eventually won. Before Agbani's victory, Bianca Onoh had also won the Miss Intercontinental pageant in 1989. The group has also built Silverbird Galleria, which it has used to revive the dying cinema culture in Nigeria. The sprawling facility is also a one-stop shopping centre, in the last few years the group has grown significantly, taking in a television and and a radio station.
 
NTA
President Olusegun Obasanjo appointed Ben Murray Bruce as CEO of Nigeria Television Authority and Ben rapidly transformed the company and made it to offer 24 hour service to Nigerians for the first time. In 1999 when he took over, NTA's, annual revenue was N400 million. Bruce increased it to N2 billion by 2000 and his projected revenue for this year is N3 billion. Being the first private sector director-general, however, Murray-Bruce contended with a deluge of criticisms as he was seen as an intruder who lacked a good understanding of the bureaucratic procedures that govern the public sector. He was replaced in by Tony Iradia[i].
[i] The News July 21, 2003
[ii] Guardian December 25, 2016
[iii] TELL February 26, 2001
[iv] The News March 31, 2008