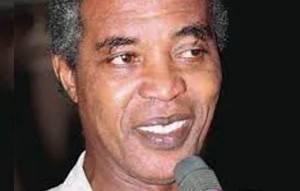 Bekololari Ransome-Kuti; Nigerian human rights activist and medical doctor. In his lifetime, Beko earned the admiration of many for his tenacity in the struggle for the sustenance of democracy in Nigeria. Beko was radicalized to fight the military, when on February 18, 1977, soldiers invaded the residence of his elder brother, Fela who was a musician and critic. Through his headship of pro-democracy group, Campaign for Democracy (CD) Beko Kuti spear-headed public demonstrations against military rule. This saw him in and out of jail on many occasions. By June 1995 he was arrested and faced with the General Aziza panel which alleged he committed an act sub-judicial to the military tribunal by obtaining the statement of the cross-examination of the coup suspects and faxed same overseas in what appears an attempt to drum up international opinions against the proceedings[i]. His activism continued into the newly entrenched democratic government in Nigeria. Beko died at the Lagos University Teaching Hospital, of lung cancer, a condition he battled with for sometime.
Origin
Beko's father was a reverend gentleman and educationist who founded and was the first national president of the Nigerian Union of Teachers (NUT) in his many years as the principal of Abeokuta Grammar School in Ogun State. Beko's mother, Funmilayo, distinguished herself as an activist politician when in 1947 she mobilized the 20,000 strong Abeokuta women against the Egba Native Authority and the dictatorship of Oba Ademola, the then Alake of Egbaland in a successful anti-tax protest.
Place of Growth
Beko Kuti was born August 2, 1940 in Abeokuta into the famous Ransome-Kuti family, Beko first attended His mother, Funmi. Kuti's class in Abeokuta, 1945-1950. He was at Abeokuta Grammar School, 1951-1956.
Education
Beko went to Coventry Technical College, England, 1957-1958 and the University of Manchester, 1958- 1963.
Contemporaries
Alongsides Olisa Agbakoba, then president of the Civil Liberties Organization (CLO), Tai Solarin the educationist and social crusader, and Clement Nwakwo, President of constitutional Right Project, (CRP), Gani Fawehinmi the Ondo born radical lawyer, Beko Ransome-Kuti organised the mass protest of July 5,1993 against the annulment of that year's presidential election.
Experience
Beko Ransome-Kuti was a fellow, Medical College of Nigeria in General Medical Practice and fellow of the West African College of Physicians. He started his activism on the platform of the Nigeria Medical Association, NMA, and was a voice to reckon with during the Yakubu Gowon regime. He was active in the post-June 12 rallies for the revalidation of the electoral victory of the late MKO Abiola. He was arrested in 1995, tried and sentenced first to life imprisonment but later commuted to 15 years by a military tribunal for involvement in a phantom coup. Headed by Patrick Aziza, a General, the tribunal found him guilty of "accessory after the fact to felony." He allegedly faxed an alleged coup trial defence of an alleged coup suspect, Bello Fadile, a colonel, to countries in Europe, in order to drum up support against the trial[ii].
Motivation
Beko was greatly strengthened in his struggles against social oppressors by meditating on the July 1992 declaration in Amsterdam of Ali Garba, a renowned Muslim scholar, entitled Commitment to Life and Hardwark. The declaration reads as follows: "Life must Have meaning to justify living it. If it does not; then there is no reason for living."
[i] ThisDay October 11, 1995
[ii] Newswatch February 27, 2006