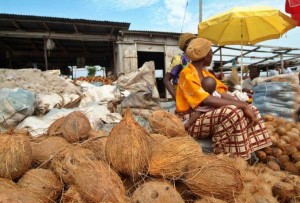 Badagry is a Nigerian border town, 57 kilometers from Lagos, situated on the narrow western coastal plain of the country. This low lying town comprising mainly of Egun people is a gateway to maritime and international trade, partly mainland and island separated by creeks. A large portion of Badagry has a sandy and marshy soil, with the cultivation of rice favored around the swampy areas. Maize, palm trees, coconut trees and citrus trees are also easily cultivated. Badagry is endowed with several places of historical interests given its position in the introduction of western civilization into Nigeria. Also, a huge tourist industry is imminently overseen by a stretch of beaches and beautiful coconut grooves on a silvery sandy soil. Badagry is site of the Energy City, a $1.5 billion project for the development of a 670 hectares which will be provided with world class hospitality facilities, energy system and integrated solution for the Oil and gas industry.
Badagry was founded around 1730 as an outlet for the trade of Oyo and Egbado. At the beginning, it was peopled mostly by immigrants from the kingdom of Dahomey who were driven eastwards by the Dahomean kings. Concern for the growing belligerence of these kings and the need to avoid Benin soldiers led the Oyo cavalry and the caravans whom they protect to abandon Ketu, their old route to the sea, which they took for the purpose of commerce and the prosperity of their homeland. Finally, the trade route was shifted for security reasons to the furthest east coast possible, hence the rise of Badagry as a town. The new post's population swelled in time with the inclusion of Popo, Egun, and Awori refugees. Also joining this village were Spanish, Portuguese, French, Dutch, and English Slave traders.
In 1852, an anti-slavery treaty in which the British, among other things, committed Badagry chiefs to make no special alignment with any country in matters of trade were signed. This served as a build-up to the imminence of British authority until 1860 when opportunity presented itself in guise of the succession dispute in Awhanjigo, a ward of Badagry. They imposed the chief most likely to give in to their whims. The new chief quickly positioned himself to gain all the advantages of trade in the town, hence, the power that he would later transfer to his British mentors. In 1863, Badagry lost its independence to the British and was subsequently transferred under the administration of Lagos, as headquarters of the western district of Lagos Colony.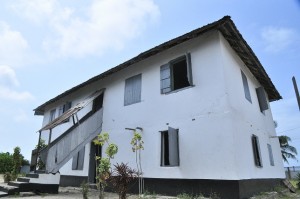 The building believed to be the first storey building in Nigeria is located on Marina Street, Badagry. Late Rev. Henry Townsend built it in 1845. The missionaries came to Nigeria in 1842 and later went to Britain. When they returned in 1845, the storey building was constructed. St. Thomas Anglican Church used the building as a Vicarage.