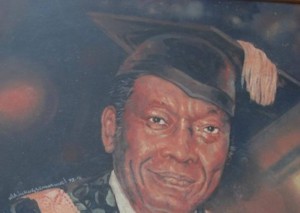 Babatunde Fafunwa Aliu; Nigerian educationist, only Nigerian academic to have been involved in all the reform processes of the country's education sector since independence. Fafunwa was an advocate of free education and of the mother-tongue policy which supports the notion that primary school pupils should be taught in their native languages for better assimilation. As minister of education during the military administration of General Ibrahim Babangida, Fafunwa brought significant and enduring changes. The Fafunwa Study Group which he chaired produced the report that led to the establishment of the National Primary Education Commission by the federal government in 1987 which spelt out the role of each tier of government and of parents too. He died in October 11, 2010 two days after he was supposed to give a convocation lecture at the National Open University, Abuja.
Fafunwa was born on September 23, 1923 into the Onikoyi family of Isale Eko, Lagos Island. Fafunwa was married to Doris with whom he raised four children. He obtained a BSc.(magna cum laude) in Social Science and English from Bethune Cookman College, Florida, United States, in 1950 and MA.(cum laude) in administration and higher education in 1955. He got his PhD in education administration from the New York University.
Examiner
Fafunwa was senior lecturer, head of department of education and later dean of the faculty, at the University of Nigeria, Nsukka. In 1965, he was made a professor of education. He also taught at the University of Ife, now Obafemi Awolowo University, before his retirement. He was external examiner on education to five Nigerian universities. He has also worked at the University, Uganda; University College, Cape Coast, Ghana; University of West Indies, Jamaica, and the University of Sierra Leon.
Fafunwa decentralised the conduct of certificate examinations, which had been dominated by West African Examination Council, WAEC, by creating two additional examination bodies. These include National Business and Technical Examination Board, NABTEB, with headquarters in Benin and the National Examination Management, NEM, located in Minna, Niger State. NEM later transformed into the National Examination Council, NECO[i].
 
[i] Newswatch October 25, 2010