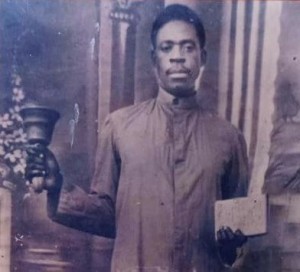 Ayo Babalola; Native missionary and founding pastor of the Christ Apostolic Church, CAC. Babalola, one of the players of the Pentecostal movement in Nigeria of 1930, termed Aladura, was a man given to much prayer, said to have spent several weeks in prayer. This brought with it a lifestyle punctuated by circumspect living. The water he prayed on was believed to have served therapeutic purpose. And he did attract trouble.
The district colonial officer observed people flocking to hear him speak, and the sick deserting hospitals for the spiritual healing Babalola promised. The preacher was queried for the fact that patients were leaving their hospital beds. It was a new wave spreading across the land and everyone seemed to be catching in on it.
Shortly after his epiphany, Babalola was directed by a voice he heard  to go first to Odo-Owa, his hometown to start preaching. On market day October, 1928, he emerged with his face painted with charcoal and body covered with palm fronds; a style by which he intended to have the attention of everyone. He preached the gospel till he was arrested and taken to the district officer at Ilorin for disturbing the peace. Thus began the ministry which culminated in a new Pentecostal movement and the birth of the CAC.
Birth
Joseph Ayodele Babalola was born on a Monday, April 25, 1904 in the town of his nativity, Odo-Owa in Ilofa, a small town, just about ninety kilometres from Ilorin, Kwara State, Nigeria. His father, David Rotimi was an elder ("Baba Ijo") at the C.M.S. Church at Odo-Owa  and his mother was named Marta Talabi. He had an uncle, M.O. Rotimi, who was a Sunday school teacher in the C.M.S. Church at Ilofa. The family attended the Anglican Church, David Rotimi being a pioneering member of the C.M.S (Christian Missionary Society) in Odo-Owa.
As a child, Ayodele rejected the chicken his grand mum had offered to the idol, though he was known to have healthy appetite for meat. His grand mum was stunned and challenged by such an act of resolution coming from a seven year old child that she gave up paganism for Christianity.
Education & Vocation
On January 18, 1918 Rotimi (Babalola's uncle) took 13 years old Babalola with him to Ifo at a time in his life when he had outgrown attachment to his parents. In the year 1919 he was registered at an elementary school at Oto-Awori on Badari road. Babalola could only complete Standard 2 at Awori before his uncle, being the catechist and church planter he was was, was transferred to Ebute Meta. On starting Standard 3 at Methodist School Ijaye, Ebute Meta in 1921 Rotimi was again transferred to Ibese in Egbado province. Thus forcing Babalola out of school for about 18 months (1922-1924) because he couldn't cope with the regular transfers that had come to interrupt his education. To give his education some stability, Moses left him in care of his friend, J.F. Adebayo. Under Adebayo's care he resumed Standard 3 class at CMS All Saints School in Oshogbo three months before the end of the academic session. Surprisingly, he ranked 4th in academic performance, having been out of school for close to two years.
He had his final lap in education at Osogbo where he went as far as standard five at CMS All Saints' School. He quit school in June 1925 to take up apprenticeship as a drug dispenser at the African Hospital, Osogbo. While he completed his apprenticeship, he couldn't follow it up by making a career out of it because the love for another art was beckoning – he developed an infatuation for machines and the mechanism that powers them. Thus he took up an apprenticeship program to become a motor mechanic as well as a blacksmith. It wouldn't be long anyway, when as the youth he was, the exuberance that accompanies swings in decision making and the thirst to explore as seen in young folks soon pushed him off the romance with his first love – automobiles. However, he wouldn't be far away anyway, he was still within orbit when he later opted to make a living as a steam roller driver. He was absorbed into the work force by the Public Works Department (PWD). That vocation offered him the privilege to be among the road workers who constructed the road from Igbara-Oke to Ilesa.
 
Epiphany
On April 1, 1928, not far away from his 24th birthday, Babalola was made a foreman and allocated a caterpillar to work with. His first port of call was the Osogbo – Ilesa road. His salary then was 4 British pounds a month, the same salary a Grade 2 teacher takes home. Eighty six (86) labourers were also assigned to work under him. On June 14, 1928, Babalola was transferred to work on the Ilesa-Akure road.
On September 25th of same year, he believed to have heard a voice calling after him with an attendant baritone pitch, like the sound of many waters. The  voice instructed him to "go into the world and preach the gospel." It was only a matter of time before he tendered his resignation letter to answer the call. Mr. Fergusson, the head of his unit, after trying to make him stay by raising his pay couldn't change the mind of the 24 years old. His conviction was strong.
That same voice, Babalola believed, came a second time asking him to fast for seven days. It was during the period church tradition said he had a vision, and through that, his mission statement cut out for him, and a preview of the taste of things to come, which of course includes persecution and the victories that would follow.
 
Faith Tabernacle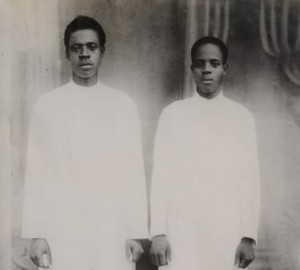 Ayo Babalola joined the Church, Faith Tabernacle in Lagos, a church affiliated to an American Church which believes in divine healing. Soon, the elders could identify and respect the gift that was operational in him, and with time his influence was to bring about major transformation in that church, one that had not been felt hitherto. Elders of the church sought Babalola's prayerful input in ascribing another name to the church. Thus, through him the church's name was changed from the Faith Tabernacle to African Apostolic Church.
Through the influence of the spirit filled Babalola, people started flocking the church. Soon, established orthodox churches around started losing members to the African Apostolic Church, the church wherein Babalola was now a huge force to reckon with; indeed, they flocked it in droves. Perhaps Babalola and his fellows saw it coming, but the cloud of trouble was silently and stealthily brewing, stalking them, gathering and getting set to let loose the torrents, thefumes of furry in the waiting, and Babalola was to bear the brunt of its full weight. Thus it wasn't long before the law enforcement officers arrested and detained him.
When released, Babalola resumed from where he had stopped with greater fervor and commitment. Ever before this time, at Erin Ijesa, he did predict the immediate return of a prince that ran away for 15 years, and of course people were shocked at his precision. At Omu, a woman pregnant for four years was brought to him, and he offered her of the portion of water the voice that communes with him instructed he give.
Rise of Babalola
Few days after his release, small pox came swooping down upon the populace, an infection they had little answer to at the time, as if lending credence to the prophecy of Babalola. Thus, in the place he was persecuted and apprehended, he became the most sought after. People already knew of his reported gift of healing, so they sought for him. Thus his name and fame spread like wildfire far and near even beyond his clime, and there came the climax of it in the year 1930, the year in which a dead 10 year old boy came back to life after prayers by him.
Babalola's father, David Rotimi Babalola, a founding member of the C.M.S. church in Odo Owa had a reputation threatened by the twist which his son was bringing to the congregation.  Bishop Smith of Ilorin diocese, acting on information brought to his desk, sent Joseph Babalola packing. This would bring about his joining the Faith Tabernacle Congregation, and subsequently, the birth of the Christ Apostolic Church.
 
Birth of CAC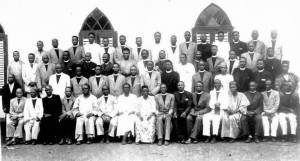 In 1930, Daniel Ajibola, an elder of the Faith Tabernacle Congregation, resident in Ibadan introduced Babalola to Pastor D. O. Odubanjo, one of the leaders of the Faith Tabemacle in Lagos. Pastor Odubanjo in turn introduced the young prophet to the President of the Faith Tabernacle at the time, Senior Pastor Esinsinade, who took his time to listen to the account of the calling and mission of the ministry of the young prophet. He and the elders were impressed, thus welcoming him into their midst. He was later baptized by Pastor Esinsinade in the lagoon at the back of the Faith Tabernacle Church building at 51, Moloney Bridge Street, Lagos.
 
Naming the CAC
Though originally affiliated to an American church, in the year 1931, in the bid to avoid colonial persecution, the Faith Tabernacle of Nigeria switched affiliation to the British Apostolic Church. However, the fact that British Apostolic Church combines orthodox medicine with prayer didn't go down well with them, as they saw it posing a compromising stance to their belief in divine healing, thus they parted ways with them in 1939. Afterwards, the church's name was changed to Nigeria Apostolic Church. However, little did they know that the Ghanaian branch of the church wouldn't have any of that. Thus they had to change it to reflect UNITED APOSTOLIC CHURCH (UAC). It was only a matter of time however before they would realize that the name doesn't belong. And that panned out when mails meant for the United African Church (UAC) started finding their way into their Church. Thus they decided the name need be changed again, and this time, the name was to stand, earning the church her current name and place; Christ Apostolic Church (CAC) was that name chosen, and it stepped so well into that void created by the demand for a change, and that was the name the church took up, the name by which it's now known. It was registered in 1943 with registration number 147. And it did happen that the church came into recognition through Babalola.
 
Evangelical Acts
At Efon Alaaye
Babalola didn't stay in Lagos after his baptism. People thronged to his meetings to have a feel of his words and the miracles of healing that attends it. At Efon-Alaaye, in Ekitiland, he was given a warm reception by the king who of course have heard of his exploits. Indeed, the king out of great respect for his person did set aside a whole building for the comfort of the prophet and his company. The whole land of the town was cheerfully given by the king, that Babalola might make a choice when it comes to selecting a site for his meetings. Remarkably so, Babalola chose a dreaded area at the outskirts of the town called the evil forest for his prayer ground. The land has rightly earned the name "evil forest" because of the misfortunes that comes on people that ventured therein. It was believed to be inhabited by evil spirits. Thus the king did his best to dissuade him from the suicidal act. Babalola wit his men set to work, clearing the "evil forest" that had remained undisturbed for ages and generations, and consecrated it as a prayer ground.
The effect of Babalola's evangelical work at Efon-Alaaye was so intense that it beckoned to ministers and pastors far and near, those outside the fold Babalola knows. White pastors from Baptist Seminary in Ogbomoso came down to see the great things heavens were accomplishing through the hands of Babalola. Seeing things themselves, not that they were being told as before, they were so much convinced and impressed that they sent for more hands from St. Andrew's College, Oyo and Baptist Seminary, Ogbomoso to come and assist in the job. Archdeacon Henry Dallimore, a CMS minister who was also the CMS Education Superintendent stationed in Ado-Ekiti at the time was among the white pastors that came visiting to see things for themselves.
 
Yonder, to Accra
The evangelical works of Babalola reached the courts of a few other kings; Oba (king) of Efon and the Oba of Aramoko accepted the new Faith. Babalola also touched places like Owo, Ikare and Oka, towns in the present day Ondo State as well as Usi in Ekitiland where many works of healing attended his outreaches. In one of his outreaches he will once again encounter trouble all the way from Otuo in present Edo State. While he was having a retreat in his hometown, Odo-Owa, an arrest warrant issued from Ilorin found its way to his place. The result, he bagged 6 months jail sentence in Benin City in March 1932. Not long after that however, a passionate plea came from the creek of Calabar, specifically from a place called Creek Town. It was a "Macedonia call," and the courier was a man by the name, Cyprian E. Ufon, a native of that side of the country. Babalola's fame had spread to that side of the country at a moment in time when the public media had not been as much developed as it is of today. Babalola headed for the town, and as expected, it was an explosive experience that came down on the people and those in the adjoining towns which includes the place called Duke town. In 1936, in the company of Evangelist Timothy Bababusuyi, he went to Accra, Ghana to minister with much effect and result attending his work.
 
 
Last days & hours
On Sunday, July 26, 1959 at the age of 55 years Babalola passed away. A day before, he conducted the morning prayer for ministers and members living in the vicarage of C.A.C. Olugbode, Ibadan. That same day, Apostle Babalola sent two of his followers to one of his ministers, Samson Oladiji Akande (Baba Abiye) at Ede that he should prepare a place for him to sleep. He arrived Ede around 6:30 p.m. into the warm embrace of his people. He went to bed, but woke up at 4 a.m. on Sunday 26th, took his bath, took some tea and had his morning meditation.
While some of his ministers came to see him, he narrated to them afresh how he started his ministry. He prayed a long prayer for the church and the ministers. After the special Sunday service in that July morning, with humor and smiles he sent off those who came to greet him, and they left for their various destinations cheered. Later in the evening he went to bed. After having a nap he called Akande, and then returned the corvering-cloth he had given him to use. Surprised, Akande asked, "Baba, why are you doing this?" he replied, "a man should sleep with his own clothes." He told Akande to take his leave while he sleep. By this time, every other person had gone to church for the evening service. Moments later, his breath became ladened and he died. His last word was recounted to be : "In the name of the Father, and of the Son and of the Holy Ghost."