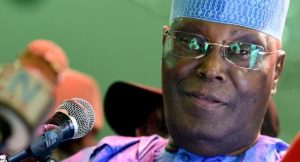 Atiku Abubakar: born November 15, 1946, retired customs officer, politician, businessman, and Vice President of the Federal Republic of Nigeria, 1999-2007. Atiku Abubakar was elected governor of Adamawa State in 1999, but later resigned his position when he was picked as presidential running mate by Olusegun Obasanjo . Atiku was chairman of National Council of Privatization, VCR under this government[i].  Under Obasanjo's presidency, Atiku was the defacto Head of State each time his boss goes on his numerous overseas tours. It is even argued that the relative success of Obasanjo's first term in office was largely due to the harmonious relationship that existed between the duo[ii].
The falling out between Obasanjo and Atiku became public knowledge in September 2006 when the Petroleum Technology Development Fund (PTDF) saga dominated media headlines. Atiku therefore cross carpeted from the PDP to Alliance Congress, AC led by Bola Tinubu for presidential ambition to again reunite with his estranged political family after an election marked by a witches' brew of electoral malpractices and violence, Yar'Adua was awarded 24,638,063 votes, while Muhammadu Buhari of ANPP got 6,605,279 and Atiku of the Action Congress, AC came third with 2,637,848 votes[iii].
Atiku's People's Democratic Movement, PDM is believed to have offered Obasanjo the platform for the presidency in 1998. Soon after, its members scattered and diffused into the various caucus of the PDP and other parties thus denying its independent identity. Atiku was a foundation member of the PDP by virtue of his membership of the PDM, Shehu Yar'Adua's political platform whose heir apparent he became, following the former army General's demise[iv].  Yet it was Obasanjo through the advice of party leader, Tony Annenih that chose Atiku for his potential to be loyal[v]. According to Obasanjo, Atiku's poor judgment, covering up, propensity for corruption and disloyalty made him cautious about his suitability as a worthy successor[vi].
Allegations of Corruption
Business deals in Nigeria linked to US congressman, William Jefferson were investigated at the request of the FBI to EFCC. Atiku, being supervisor of the Petroleum Trust Development Fund, PTDF activities and one who gave approvals for its funds was made to answer for the financial impropriety discerned[vii]. One of his favorite governors, DSP Alamieyesigha of Bayelsa State is said to have fled justice with his help when his office facilitated the governor's escape from London[viii].
The US Senate published a report showing that Atiku's wife, a US citizen laundered some $40million through her personal bank accounts in the United States, including a $2.8million wire transfer acknowledged by Siemens AG of Germany. Atiku and his wife, Jennifer is said to have left the U.S. in good time before the FBI comes asking questions[ix].
Advocacy
Atiku casts the image of one sensitive to public opinion and popular aspirations with his open support for a national conference against the position of President Obasanjo. His own idea of the conference varies however from the Sovereign National Conference that was publicly clamoured for; one that could possibly demand he gives up his mandate if he became president[x].  Following his criticism of President Yar'Adua government handling of the electoral reform, and what he called the 'near absence of governance in the country,' Atiku had his security escorts withdrawn on orders of Yar'Adua[xi].
[i] Insider, December 2, 2002
[ii] The Week, February 16, 2009
[iii] The News May 7, 2007
[iv] The Source, July 9, 2007
[v] The Nation, December 21, 2014
[vi] My Watch II, Olusegun Obasanjo pg. 476
[vii] The Accidental Public Servant, El Rufai, Safari Books, Ibadan, pg. 233-234
[viii] Newsenquiry, October 2006
[ix] The Accidental Public Servant, El Rufai, pg. 107-108
[x] Insider July 5, 2004
[xi] Vanguard, April 12, 2009