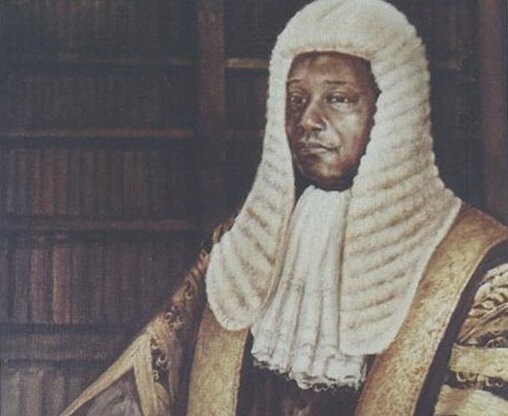 Atanda Fatai-Williams; Legal luminary, one of the delegate to London which historically decided the design for the robe of the Nigerian Chief Judge. Fatai-Williams was appointed Justice of the Supreme Court of Nigeria in 1967. He served as Chief Justice of Nigeria from 1979 to 1983.
After staying abroad for 6 years since his first journey across the ocean, Fatai-Williams returned to Nigeria to make the change he and his friends dreamed about. He established his law firm before he was called in the public service. He was part of the delegates in London during the review of the McPherson constitution in 1953. Under an exchange programme Fatai-Williams travelled to the United States of America a guest to the American government. This visit was so he could have a first-hand study of the federal system of government. In his life, Fatai Williams became a legal force to reckon with. Praised as a sound mind, he is meticulous and made a signature of punctuality and preciseness in his presentations, not pleased with verbose arguments.
 
Places of Growth
Fatai Williams was born to the family of Alhaji Issa Williams a notable Lagos business man on the October 22, 1918. He is from a polygamous family of Muslims. He had many siblings, and they spent most of their childhood days in one of the houses their father acquired. Grand parents stayed close too. Most of his childhood days were in Lagos and he attended Talimul-Islam Ahmadhyr School where he learnt Arabic. In 1929 he got admission into Wesleyan Boys High School (now Methodist Boys High School) where each of his other siblings schooled.
Education
After delaying because of war rumours, Fatai-Williams travelled to London in 1942 to pursue his studies but missed the academic year due to an illness that left him in bed till March 1943. He took the exams again and got in October of that year. He got his BA in Law in the 1946, his LLB in 1947.  He attended Middle Temple in 1947- 1948. He was called to bar in June 1948. Two years later he became a Crown Counsel.
Family
Justice Fatai had many siblings, the boys were interested in the white collar jobs but the women took after the trade of their father. On June 10, 1948 he got married to Irene Loft, an English woman with whom he raised 3 boys.
Travels
Fatai-Williams and all his young friends, who aspired to go abroad for further studies, formed a club named 'Red Club', united in their resolve to go in search of the Golden Fleece. Incidentally, they all went abroad for their studies. In 1942, Fatai left the shores of Nigeria on board a ship sailing to England during the wartimes to study law, an admission he sort for himself since he joined the 'Red Club'. He went to Trinity College in Cambridge and would from there go partying with his friends in London. As a public officials, he would make several more visits across the world. He attended the conference of Apellato judges in 1980, he also the international Judges conference in Philippines in 1977.
 
Contemporaries
Fatai-Williams worked with Remi Fani kayode and Rotimi Williams in the chambers before establishing his own. He was registrar when Adetokunbo Ademola was Chief Justice. Also, he was promoted alongside Justice Udo Udoma and Justice G.B.A Coker of the Coker Commission. He once worked with Dr Elias in the court.
 
Law Career
Interest in law was triggered in Fayai-Williams by his meeting with grandfather's lawyer, Eric Moore. As a boy, he spent school holidays visiting law courts. His interests grew when he met in 1934 Remi Fani-Kayode and Adelumola Ibikunle Akintoye, members of the Green Triangle Club.
Soon after he returned from studies abroad, Fatai-Williams established his own private practice. In 1955 he was appointed to the post of Assistant Commissioner for Law Revision. The first case he handled was a murder case, which he lost.  In 1956, he was the sole commissioner to inquire into the Olukare of Ikare Chieftaincy dispute. In May 1958, he resumed duty as the Chief Registrar in Ibadan. He worked as Chief Registrar of the High court of the western region from 1960 to May 1967 when he became Justice of the newly instituted western state of Appeal. Fatai-Williams became Justice of the Supreme Court in 1969. He was Chief Justice in 1979. He was in Benin, where handled land cases then he was posted to Akure, to take over Ondo Judicial Commission.
Fatai-Williams, retired as Chief Judge of Nigeria, was decorated with the national honour of Commander of Federal Republic of Nigeria in 1981. He was awarded Grand Commander Order of the Niger in 1983. He was the United States State Department Grantee in 1974, and a United States Government Exchange Grantee in 1957.