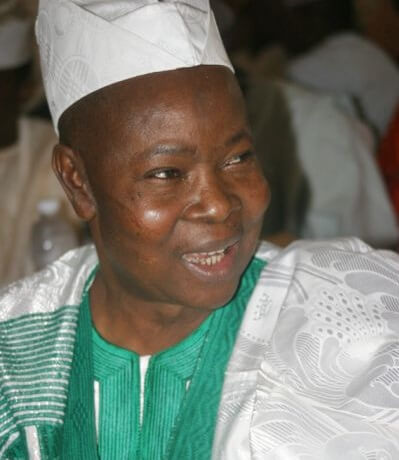 Arisekola Alao; Trader and major player in Ibadan politics in Nigeria. Arisekola, who is also identified as a Muslim leader started his business with 300 pounds given to him by a friend and he secured a credit facility of 3,000 pounds from the Imperial Chemical Industry, London, which launched him into the business world. As a young businessman, Arisekola oiled the engine of the political class, for both Awolowo's United Party of Nigeria, UPN, and the opposing National Party of Nigeria, NPN, but enjoyed special relationship with Obafemi Awolowo, whom he showed deference. Believing General Babangida to share similar feelings for his icon, he announced his support for the former military president's 2015 presidential ambition when it was launched. As a traditionalist, Arisekola discontinued his Monitor Newspaper when editors got critical of the sitting president, Olusegun Obasanjo, whose credentials he questioned himself. Same property had been a target in 1998 when pro-democracy campaigners in Ibadan demanded the resignation of General Abacha, the Nigerian Head of State to whom he and another Ibadan political influencer, Lamidu Adedibu were allied[i]. Arisekola died in 2014.
Places of Growth
Alao Arisekola was born in Adigun, a village near Akanran in 1945. He attended St. Lukes Primary School, Adigun in his village and in the year of Nigeria's independence from colonial rule he left the village for Ibadan.
Childhood
Alao secured admission into Christ School, Ado-Ekiti but couldn't further his education due to his father's ill health, which hindered his ability to fund his son's schooling. He started following his uncle to Ogunpa to sell agricultural chemicals. Though his father was a produce buyer at that time, he started selling Gammalin 20 and Perenox at Ogunpa.
Experience
Arisekola started as an apprentice, learning under his uncle, Karirnu Olasupo Amoo till 1968 when he asked to be freed. With a head start by his friend he was able to commence his own business. Soon he was offered a loan by the Imperial Chemical Industry (ICI), distributors of the agricultural chemicals in the country. Steadily, he increased the volume of goods he was collecting from the company. As his wealth increased, he delved into transport business with a score of vehicles.
Arisekola made it big with the importation of cars which he started in 1976. Within five years he became the biggest car importer in the country. The Federal Government gave licences to about a dozen of distributors to import cars and out of all these distributors, he sold 17 per cent of the total vehicles sold in Nigeria[ii].
[i] TheWeek May 18, 1998
[ii] Tribune October 8, 2010