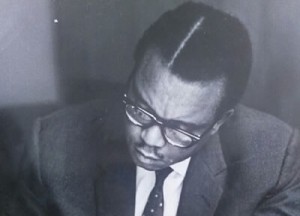 Anthony Enahoro; Nigerian nationalist and politician of the first republic. Enahoro as an Action Group, AG parliamentarian in 1953 moved a motion for self-rule in the Federal house which proposed that Nigeria should have its independence in 1956[i]. He was detained during the emergency period in the Western Region following the Action Group crisis in 1962. He later fled the country and went into political exile in the United Kingdom. Enahoro was later extradited to Nigeria by the British government to face treasonable felony treasonable charges for which he was jailed. Enahoro spent four years and some months behind bars before he was released by the General Yakubu Gowon government in 1967. Enahoro served under Gowon's military government, but resumed his opposition to dictatorial regimes after. He formed the Movement for Reformation, MNR.
Under the NADECO and MNR, Enahoro led anti-military protests in Benin. He was detained for 121 days from August 1994 for his agitation as dictator, General Abacha clamped down on dissenters and fled the country following reports that assassins, suspected to be agents of the military junta, were after him[ii]. Following the entrenchment of a civilian government, Enahoro returned from exile in 2000 to a celebratory reception and committed himself to a renewed struggle to pursue the enthronement of the people's constitution proposed by the Peoples' National Conference, PNC, which he headed in August 2006[iii]. Believing the American executive presidential system which the country adopted since 1979 is getting too expensive for the national economy to sustain, Enahoro was involved in other campaigns for the restructuring of Nigeria and a return to the parliamentary system[iv]. Enahoro died December 15, 2010 at the University of Benin Teaching Hospital after a protracted battle with diabetes.
Place of Growth
Born July 22, 1923 in Uromi, Edo State, Enahoro was an activist from youth. Enahoro attended Government School Uromi, Government School, Owo, and King's College, Lagos. At the age of 19 in King's College, Lagos, he went on protest against British government's decision to involve Nigeria in the Second World War.
Childhood
Enahoro's activism dates back to his days as a student in King's College, Lagos, where he was involved in the nationalist movement.
Affiliates
Enahoro was a loyal ally in politics and faithfully stood by Obafemi Awolowo, his leader, throughout the Action Group crisis.
Experience
In 1944, Enahoro was appointed the editor of Nnamdi Azikiwe's newspaper, The Southern Nigerian Defender, an Ibadan-based newspaper. He also variously served as editor of the Comet, Kano, between 1945 and 1949, associate editor, West African Pilot, Lagos, and editor-in-chief Morning Star from l950 to 1953.  Subsequently he returned to Lagos where he worked in the West African Pilot as an Associate Editor in 1949[v]. He later left the West African Pilot to join the Morning Star as editor-in-chief from 1950 to 1953.
Enahoro became a foundation member of Chief Awolowo's Action Group party; secretary and chairman, Ishan Division Council; member, Western House of assembly; Federal House of Representatives in 1951, minister of home affairs, Western Region, member of the National Party of Nigeria, NPN, 1978—83[vi]. Apart from his stint as federal lawmaker, the former journalist also served his fatherland in various other capacities. He was federal commissioner (minister) for Information and Labour under the General Yakubu Gowon military government, between 1967 and 1974 and federal commissioner for special duties in 1975[vii].
 
Accomplishments
Enahoro was conferred with the national honour of Commander, Order of the Federal Republic, CFR, in 1982.
[i] ThisDay October 5, 2010
[ii] Tell April 24, 2000
[iii] Tell January 15, 2007
[iv] Newswatch February 14, 2011
[v] Newswatch February 14, 2011
[vi] Westerner August 3, 2009
[vii] Newswatch December 27, 2010