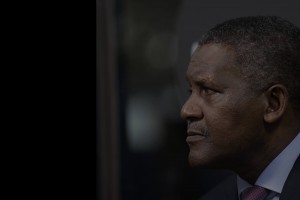 Aliko Dangote; Nigerian industrialist and business czar. Aliko is a scion of a popular Dantata family of Kano who started out in 1977 in the Northern city as a trader with a seed money of 500,000 naira given him by his maternal uncle. His trade in food and building materials took him to Lagos in June of that year, Lagos. He started out with cement and commodities. As scarcity sets in Dangote made some good returns but his big break was in 1986, when the regime of General Ibrahim Babangida liberalised the economy. With the elimination of import barriers his company commenced a big import business[i].
Until 2009, Aliko Dangote, was the only Nigerian on the Forbes list of richest persons in the world. With a net worth of $ 3.3 billions in 2008, the man whose companies dominate cement and sugar production and importation in Nigeria and West Africa, was ranked by the American magazine that year as the world's 334th richest person. With the global financial meltdown of 2008 his fortune slumped to $ 2.5 billion[ii].
 
Places of Growth
Aliko Dangote was born in Kano on April 10, 1957 to Muhammad Dangote and Hajiya Mariya Sanusi Dantata[iii].
 
Childhood
Although he hailed from a rich family, he has since primary school bought cartons of sweets to sell. With time, he gave some to others to sell for him[iv].
 
Education
Aliko was educated at the Kano Capital School, Kano; Birnin Kudu, Jigawa State[v]. He is an alumnus of Alhazahar University Cairo, Egypt[vi].
 
Contemporaries
Aliko Dangote and Leo Stan Ekeh represent the new entrepreneurial class that was empowered by President Obasanjo to build world-class commercial institutions[vii]. Friend, Femi Otedola's African Petroleum, AP raised the alarm that Dangote and companies associated with him were 'crossing ' its shares on Nigeria's stock market with a view to depressing the price value in 2009[viii].
 
Experience
Dangote incorporated his first two companies in 1981. After building up substantial capital from rice and cement imports, Dangote moved into importation of sugar, investing heavily in some Brazilian sugar refineries from where he sourced his imports. Dangote also exported gum Arabic, cashew nuts, cotton, cocoa, millet and textiles to neighbouring West African countries. In 1993, he established himself as a socially responsible entrepreneur with the purchase of the ailing Nigerian Textile Mills[ix].
 
[i] Tell April 3, 2000
[ii] Westerner April 6, 2009
[iii] Guardian April 6, 2015
[iv] The News April 16, 2007
[v] Newswatch April 16, 2012
[vi] Insider April 10, 2006
[vii] Guardian June 12, 2013
[viii] Westerner April 6, 2009
[ix] The News March 31, 2008