Alfred Rewane; Nigerian civil rights leader and campaigner for democracy, human rights, true federalism and accountability in public office. He was a financier of pro-democracy movements in Nigeria during the military dictatorship of General Sani Abacha [i]. The wealthy industrialist is credited with standing up to the racism of Lagos' Bristol Hotel in 1948 when he led members of the Island Club to a sit-in protest which led to the Governor General Sir Arthur Richard's banning of all forms of racial segregation in Nigeria. Rewane's doggedness is again exemplified with indignation against the World Bank dismissal of the proposed establishment of West African Portland Cement (WAPCO) due to the absence of limestone in Nigeria. Expeditionary missions sent out by him discovered limestone in large quantities in Ewekoro, Papalanto up to Benin Republic. Alfred Rewane was assassinated 6 October, 1995 in the thick of the struggle for the emancipation of Nigeria from the clutches of military misrule.
 
Place of Growth
Alfred Rewane was born on 24 August 1918. He attended the Township School, and Government School, both in Warri.
 
Experience
Rewane joined the United African Company, UAC, in Burutu and, in 1942, was transferred to Lagos. Rewane later resigned from UAC and went into timber business.
Affiliates
Rewane met Awolowo in the early 1950s and became good friend with him. He was to become Awolowo's political secretary and later chairman of WNDC.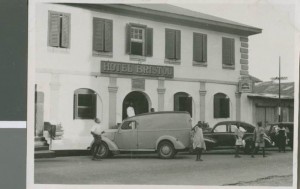 Contemporaries
Alfred Rewane belonged to the Island Club whose members, particularly Olugbaike, trade unionist; Milton Macaulay and Prince  Adeleke Adedoyin he led in protest against the racist policy of the Bristol Hotel which denied accommodation to Mr. Ivor Commings, a black West Indian official with the Colonial Office. Adeyemo Alakija is another contemporary whose friendship with Governor-General, Sir Arthur Richard Alakija assured them against arrest and which led to the banning of racial segregation in Lagos. Musician, Bobby Benson performed regularly at Rewane's properties at Idumagbo Avenue, Lagos Island, Akinwunmi Street, Yaba and 24 Queen's Street in the same area which was converted to Yaba Rex Club. Together with  Simeon Adebo, who later became Nigeria's Permanent Representative at the United Nations, Rewane conducted an expeditionary project which led to the discovery of limestone in Nigeria[ii].
 
[i] Westerner August 9, 2010
[ii] The News March 31, 2008