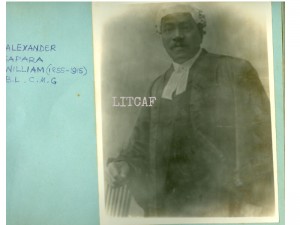 Alexander Sapara Williams was the 19th Century lawyer, who when called to bar at the Inner Temple in 1879 became Nigeria's first to qualify as an advocate. His clamour for press freedom, and opposition of the Seditious Offences Ordinances of 1909 which fortified Colonial authority against dissidence provided the background upon which Herbert Macaulay and other nationalists' career would develop. Sapara Williams, older brother to Oguntola Sapara who was a distinguished medical doctor, was born 1855 to a father of Ijesha extraction who had been freed as a slave in Sierra Leone, and a mother from the Egba clan.
Before his studies in law, Sapara Williams went to C.M.S. Grammar School from 1871, and later, the Wesley College, Sheffield, United Kingdom. He returned to Nigeria to start his practise which commenced on the 13th of January, 1888 at the Lagos Colony. In the same month he joined the Nigeria Bar Association, which he would later chair from 1900 till his death in 1915.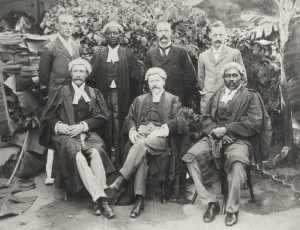 In August, Sapara joined a handful of British Barristers at the Supreme Court. There, he worked with nominal attorneys with no legal training but who were a bit literate and had a passing knowledge of the English Law. His handling of the time's most celebrated cases, Cole vs. Cole and the Attorney-General of Southern Nigeria vs John Holt and Company is well preserved. Sapara Williams, in consultation with the British Governor General of Nigeria, Frederic Lugard, made his inputs into the formation of the Northern and Southern Nigerian Protectorate.
Sapara was unofficial member of the Lagos and Southern Nigeria Legislative Council from 1901 to 1913, and with the amalgamation of the Northern and Southern Nigerian protectorates, was one of the two Nigerians in the new legislative council of eleven members. With Herbert Macaulay, Sapara started the Anti-Slavery and Aborigines Protection Society in Lagos on the 30th of August, 1910, and served as the Lagos Auxiliary Vice President till 1913. Inevitably Sapara belonged to a class that believed in the New Africa, as did English–trained contemporaries; Henry Carr, Samuel Lewis, and John Randle. His Anglophonism nevertheless, he sponsored, in a show of ultraethiopianism, an Egungun dance, to the commendation of many traditional rulers.