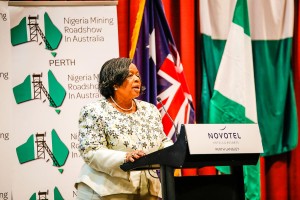 Alaba Lawson; Educationist and fourth Iyalode of Egba. Alaba is the school proprietress of Alaba Lawson Group of Schools, a private co-educational school in Abeokuta. She was described in a tribute marking her golden year by Akarigbo Sonariwo of Remo as a front line mobilizer of Human Resources, and by a Keesi Abeokuta chief, Sorunke as outspoken traditionalist endowed with oratory prowess. Her philanthropic activities and industry, cheered across different spectra of Abeokuta societies, has been compared to those of Egba women known to history; Funmilayo Kuti, and Tejuosho Bisoye who incidentally were her predecessors in the Egba traditional office of the Iyalode.
Origin
Alaba's grandparents from the paternal and maternal sides were both merchants whose bulky stocks earned for her and her siblings a nickname, Omo Aderu Lona Meji, translating as child of load careers[1]. Her grandfather on the father's side, Pa Abraham Jiboku also known as Edun, was a cocoa merchant before his death in 1918 while Pa Coker, her maternal grandfather traded in European goods. Alaba's father, Emmanuel Abiona Jiboku was born in 1910 to Pa Abraham by one of his wives also named Alaba, at the village of Ososun, now under Ifo Local Government Area of Ogun State. Emmanuel Jiboku from Oke Ona Egba, a self-made alumni of Abeokuta Grammar School where he was a one-time classmate with Simeon Adebo, became at the end of his schooling, an official of the Egba Native Power Authority, the corporation which generated and distributed power to the Egba country. Her mother, Ruth Aina nee Aderupoko-Coker whose own father originated from Itesi, traded in clothing materials and was also a sewing mistress.
Places of Growth
Alaba was born 18 January 1951 while the Jiboku family lived at Egugu compound in Ago-Oko area of Abeokuta. Her infant life was filled by activities of the Jehovah Witness sect which her parents joined in the year of her birth, and she moved around with her itinerant evangelist parents. Before her fifth birthday she had begun taking lessons at an open class in front of the St. John's Church Igbehin, Abeokuta. Shortly, she was enrolled for a more formal primary education at St. James African Church Primary School, Idi Ape, Abeokuta, a school built on a rocky hill which provided children a natural fun spot. In 1963, she was admitted through a stroke of luck, to the Abeokuta Girl's Grammar School, under the headship of Mrs. Marian Hughes whose style would be reflected in her own life's career as an educationist.
Travels
Alaba journeyed to the United Kingdom on the advice of her gynecologist who feared she had gotten pregnant of her second child too closely to her first delivery. Although she travelled to deliver a child, her journey was extended as she decided with her family's permission, to complete a teacher's training program which she enrolled for. Often, she travelled some four hours from London to Dorking, Surrey, to see her infant child who was left in the care of a nanny. Alaba returned to Nigeria with her baby in November 1975 after completing her program, to join her family in Abeokuta. Her business commitments later in life would take her around the world, an instance being November 2017 when she led the Nigerian Association of Chambers of Commerce, Industry, Mines and Agriculture (NACCIMA) to the Nigerian-British Chamber of Commerce Summit in Atlanta, Georgia, USA[2].
Relationships
Childhood
As a child, Alaba and her other siblings helped their mother transport wares to markets every morning before school and back home in the evening. The deeply communal Jehovah Witness group to which her family belonged formed a major theme to her childhood. Sometimes she fetched firewood along Oke Mosan in Abeokuta with her elder brother and sold them before going to school. According to her son in an interview, she mended her own school uniform too, being unable to afford a new one[3]. Although she grew up at a time stage acting was considered the profession of school drop outs, she developed interest and hoped to be an actress.
Family
Alaba was second surviving child, preceded by a twin in the family of Emmanuel Jiboku and Ruth Aina who were married in 1948. Her father, Emmanuel, was honored with the Member of British Empire award in 1957. In 1968 she married Kehinde Lawson, son of Chief Oladeinde Lawson who had been one of her mentors. The couple would divorce over time, but with the commitment to maintain cordiality. They had six boys, one of whom, Akinola Lawson, was the Special Adviser on Agriculture to the Governor of Ogun State, Ibikunle Amosun.
 
Education
Alaba's secondary school education was at the Anglican Girl's Grammar School, which was at the time of her entrance in 1963 regarded as highbrow. Her favourite subjects were English, Needlework, Literature, and History. She partook in the extracurricular activity of stage acting too. She took courses in Child Education from the St. Nicholas Montessori College at Prince's Gate, London, bagging a first class diploma.
 
Career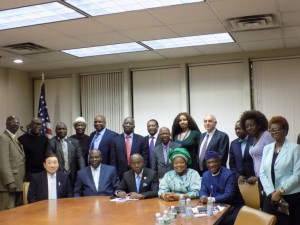 Affiliates
Alaba Lawson is the Chairman, Board of Governing Council of Moshood Abiola Polytechnic, she was the President; NACCIMA, and Odu'a Chambers of Commerce.  She was named chairman of the US-Nigeria Trade Council in 2017. She is the president, Federation of Women Entrepreneurs – Nigeria, (FEBWE-Nigeria). She is a member of Institute of Directors, and council member of the Nigeria British Chambers of Commerce (NBCC). She worships at the Cathedral Church of St. Peter, Ake, Abeokuta.
Contemporaries
The journey into renown started shortly after Alaba's return to Nigeria in 1975 when her brother-in-law Chief Adeyemi Lawson who was a successful industrialist and lawyer helped in the foundation of the first schools established by her. Other Egba persons who shared in similar passion was Alake Oyebade Lipede whose public speech in 1972 encouraged her to settle in Abeokuta. She looked forward to following the example of Bisoye Tejuosho whose acquaintance she made while a girl and who will become her immediate predecessor as Iyalode of Egba. Under the military administration and with the cooperation of Lt. Col. Daniel Akintonde, she acquired and redesigned a modern secretariat for the Abeokuta Chamber of Industries, Mines and Agriculture. She served in the board of NACCIMA with Adeolu Balogun, who was also Deputy Governor of Ogun State. Otunba Adekunle Ojoro, Chief Bade Ojora, the Ojora and Oniru families are close associates.
Schools
For less than a year Alaba Lawson tutored at a school but decided on starting her own- one with daycare facilities to meet the needs of parents who were yet settled in the new capital city, after the 1976 creation of Ogun state which brought them from Ibadan and other towns of the former Western Region. The Lawson's Childcare Centre, which blossomed into the Lawson Group of Schools opened its doors in September, 1977 at Lalubu Road, Oke-Ilewo, Abeokuta.  Business activities earned her recognition also, and she began the headship of Chambers of Commerce with the Abeokuta Chamber of Commerce Industry and Mines. Her success in this position is to attract many similar public office assignments, including women leadership till she was saddled ultimately with the traditional role of the Iyalode.
 
Motivation
Epiphany for Alaba's life career as educationist came on a visit to the Queen's Park in London where she saw a score of four to six year olds engaged in group activities which made pleasant impression on her mind. Wanting to replicate such beauty in kids back home, she decided on acquiring the skill before returning to Nigeria.
 
Accomplishments
Alaba Lawson started with the establishment of a Nursery and Primary School. After learning the ropes, she opened a secondary school also in Abeokuta. She joined the NACCIMA and attained the post of the chairman, supervising a real estate acquisition for the body which is visible in the skyline of the city. In her list of honors is the chieftaincy titles of Iyalode of Egba awarded by the Alake and Iyalode of Yorubaland by the Alaafin of Oyo. In 2007 she was appointed Vice-President of the European Economic Chamber of Trade Commerce and Industry. Earlier in 2004, she was awarded the Member of the Federal Republic title by President Obasanjo.
[1] Iyalode Alaba Lawson The Making of an Amazon, S. Bankole, W. Efunnuga, S. Olabanji, Triangular Associates, Abeokuta, 2001
[2] agronigeria.com.ng/us-nigeria-trade-council-names-iyalode-alaba-lawson-new-chairman/
[3] www.punchng.com/mum-used-a-long-cane-atori-to-correct-my-five-brothers–and-i-iyalode-alaba-lawsons-son/amp/