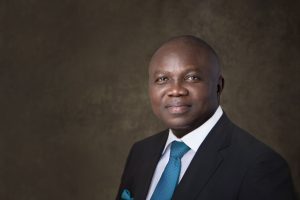 Ambode Akinwunmi; Lagos financial strategist who was elected Governor of the state, succeeding Babatunde Fashola in 2015. At his prime, Ambode showed the prospect of a promising person. At 21, he obtained a degree in Accounting from the University of Lagos, Akoka. At 24, he earned a Masters Degree and qualified as a chartered accountant. Ambode started his career in Lagos as a waste disposal agent. He moved to the local government as a treasurer, and to the civil service. Through creative financial engineering, the state survived when the Federal Government moved against the local governments. In 2012, the Fullbright scholar retired voluntary as the Accountant-General and Permanent Secretary, Ministry of Finance, at the age of 49 years. He was the first Permanent Secretary to have done so in the history of Lagos Civil Service. When the Federal Government withheld allocations to Lagos councils, Ambode designed the blueprint for the financial survival of the councils[i].
Born on June 14, 1963, Ambode completed his Ordinary and Advanced Levels and had the distinction of achieving the second best result in all of West Africa in the Higher School Certificate Examinations in 1981. Ambode proceeded to the University of Lagos, Akoka, where he studied Accounting[ii].
As governor, Ambode collated complaints and requests of Lagos constituencies to his office for executive action. Parts of these recommendations were implemented across the State. In line with the policy of the State government of inclusive governance, the process leading to 2017 budget commenced with the yearly budget consultative forum, which provided an avenue for citizens and residents of the state in the three senatorial districts to make inputs into the budget. MDAs were enjoined to incorporate those inputs into their budget proposals. In addition, members of the Lagos State House of Assembly held constituency stakeholders' meeting across the 40 constituencies of Lagos State[iii].  His renewed enforcement of Street Trading and Illegal Market Prohibition Law 2003 was deemed by head of Coalition Against Corrupt Leaders as unfair and unwarranted, explaining the government failed  to create sensible alternatives and by so doing oppressing the poor[iv]. Ambode embarked on the construction of five new stadia across the five divisions of the state to mark the state's golden jubilee anniversary in 2017[v]. His plan to scrap yellow buses, a.k.a. danfo was atrophied by hesitation to displease danfo operators and okada riders whose 700,000 members, easily mobilized, is believed to enjoy a certain sway over elections[vi].
[i] Nation, December 4, 2014
[ii] Punch, May 30, 2015
[iii] Nation, October 24, 2016
[iv] Punch, ,July 10, 2016
[v] Punch, December 3, 2016
[vi] Punch, April 16, 2017