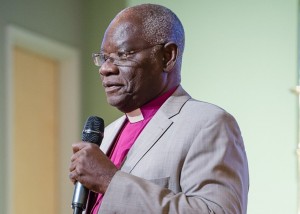 Akinola Peter; Conservative Archbishop of the Church of Nigeria, Anglican Communion. Akinola's crusade to prevent the pollution of traditional Christian values in the body of the global Anglican Community was a response to the Church of England and ECUSA approval of same sex marriage. Cross-diocesan opposition was led by him against the consecration of Gene Robinson as the first confessed homo-sexual bishop in the Ecumenical Communion Church of United States of America, ECUSA, in 2003. Due to the obstinacy of ECUSA, Akinola rallied other conservative Primates around the world not only to condemn the new development, but to isolate the US Church from the mainstream global Anglican Communion.
Peter Jasper Akinola was born in Abeokuta in 1944. Schooling temporarily halted for Akinola barely into his adolescence as he dropped out of school to learn carpentry partly due to the death of his father when he was just four years old. Education was furthered mostly through distance learning and he went for further study at an Anglican seminary in Nigeria after which he was ordained a priest. Akinola was also trained at another Theological Seminary in Virginia, USA.
Pastorate
Akinola Peter was instrumental in the installation of Martyn Minns, formerly of the Episcopal Church, as a bishop of the Convocation of Anglicans in North America, under the Church of Nigeria structure, as an alternative for those who did not agree to the practices of the US Church. In Nigeria he is a visible Christian leader and his criticism of the government often widely circulated. Akinola was named among TIME Magazine world's 100 most influential people in the category: Leaders and Revolutionaries, in 2006[i].
 
Abuja Diocese
Akinola's first assignment upon his return to Nigeria was to establish the Anglican Church in the new new city of Abuja and other collections of disparate villages making the Federal Capital Territory in the early 1980s. His creative innovations in commanding the fellowship of the faithful earned him respect. In 1989, Peter Akinola was ordained the first Anglican Bishop of Abuja. Akinola was became the Archbishop of Province III of the Church of Nigeria, consisting of the northern dioceses of Nigeria in 1997, and be- came the Primate of the Church of Nigeria in February 2000. Akinola was elected in 2003 as head of the Council of Anglican Bishops during the meeting of the council in Nairobi, Kenya[ii].
Akinola was bestowed with the National Award of Commander of the Order of the Niger, CON, in December 2003. During his tenure as President of the Christian Association of Nigeria, CAN the Christian Association of Nigeria was able to complete the National Ecumenical Centre, Abuja where Christians of all denominations now worship.
[i] The News March 31, 2008
[ii] Tell October 20, 2003