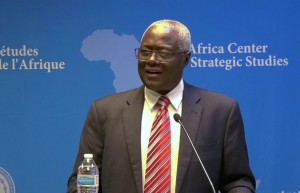 Martin Luther Agwai; Nigerian military chief appointed Chief Of Army Staff, COAS by President Obasanjo. During his tenure, Dornier 228 Nigerian Air force jet crashed on Ngokur Hills in Mbakunu-Shangev-Ya District of Kwande Local Government Area, Benue State, killing military top brass on board[i]. Agwai was appointed deputy military adviser to the United Nations on Peace keeping. Before this time he was the deputy force commander of the United Nations Mission in Sierra Leone, UNAMSiL[ii].
 
Place of Growth
Martin Agwai was born in November 1948 at Gidan Maria Province of Southern Kaduna.
Education
Agwai's military education at the NDA launched him into further military training in the United States of America where he attended an Advanced Gunnery Instructors Course, Armoured Officers Basle Course and Armoured Officers Advanced Course in 1974. His return to Nigeria in 1977 took him to the Junior Division Staff College, from where he studied at the Senior Division Staff College, Jaji in 1978. In 1981, he took part in a Special Staff Intelligence Course, before once again leaving the shores of the country to the British Army Staff College in 1983. He is also a graduate of the National War College, Abuja and an alumnus of the famous National Defence University, USA.
 
EXPERIENCE
Agwai became a lieutenant in the Nigerian Army in 1973 and was promoted to the rank of captain in 1977. His next elevation to the rank of major came in 1982, from where he was made lieutenant colonel in December 1986. Between 1991 and 1996. Agwai rose to the post of colonel and later Brigadier General. He was promoted major general in 1999 and lieutenant general in June 2004, a year after being appointed COAS by President Obasanjo[iii].
[i] Insider October 2, 2006
[ii] Insider March 10, 2003
[iii] Tell June 12, 2006