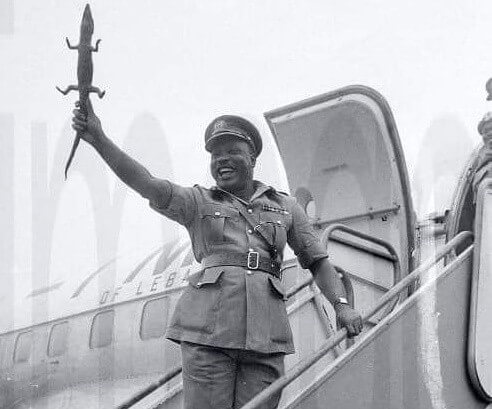 Johnson Thomas Umunnakwe Aguiyi-Ironsi; First military Head of State of Nigeria. General Aguiyi-Ironsi was described in Major Ademola Ademoyega, a revolutionary Yoruba officer and one of the key actors in the famed "Igbo coup" later, in his memoirs, Why We Struck, as a reactionary who mobilised his men to abort the January 1966 revolution in Lagos. Aguiyi-Ironsi turned out to be the chief beneficiary of the Major Chukwuma Nzeogwu-led mutiny of January 15, 1966 though he was neither the leader of the mutineers nor a conspirator with the famed "young majors." Aguiyi-Ironsi aborted that revolt in Lagos and so rendered it ultimately ineffective eventhough the gruesome murders of some eminent Nigerians including the premier of the Northern Region, Sir Ahmadu Bello caused enough chaos to warrant the handing over of the reins of power to him by Senate president and acting President of the republic, Dr. Abyssinia Nwafor Orizu[i]. On July 29, 1966 a mutinous troop led by Major Theophilus Danjuma abducted General Aguiyi-Ironsi from the Western Region state house, Ibadan with his courageous host Colonel Adekunle Fajuyi, military governor of Western Region. Both were later reported dead.
Ostensibly to guard against secession, the Major-General Aguiyi Ironsi-led government decreed a unitary government against the status quo – federalism, which the nation adopted on independence as its system of government[ii]. He was accused by his detractors for hedging on the January coup plotters, and for surrounding himself mostly by officers of his Igbo stock.
Aguiyi-Ironsi, born in March 2, 1924, was celebrated as a hero during the Congo peace keeping mission, was appointed the General Officer and Supreme Commander of the Nigerian Armed Forces in 1965 after the expiry of the office of the British G.O.C, Major-General Welby-Evarard[iii]. His son who was born in 1953, Thomas, is a career diplomat and he was appointed minister of state for Defence in 2006.
 
[i] Ogham-Emeka
[ii] ThisDay July 28, 1996
[iii] Vanguard July 31, 2016