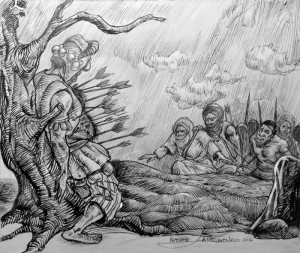 Afonja was the Great grandson of Laderin, founder of Ilorin town. Afonja was the most influential man in old Ilorin and he was responsible for the revolution that unbundled Oyo Empire. His actions also led to the lost of Ilorin town to foreign dominance. Afonja's father was one of the men who swelled the army that stood against Basorun Gaha, the tyrant warlord who dealt horror to kings and commons alike. It was the attempt to revenge of Ojo Agunbambaru, one of the very few children of Gaha who survived the people's judgment that led to Afonja's consolidation as the most formidable figure in the weakened empire. His rebellion against the central government at Oyo had begun with the rivalry he shared with Aoole Arogangan who became the last Alaafin before the Civil War that engulfed the empire.
The authority of Oyo had become heavy on smaller towns of the empire, but Afonja who wanted to break away showed no sign he was about to bring a new dawn. Afonja consulted with Alimi, a Fulani cleric, who later took a permanent appointment with him, moving into Ilorin with his servants. These servants, Afonja found to be useful as soldiers. He bestowed on them the liberty that became a source of worry to the people and when it was time to reverse this, the Jamas, as they were called, overpowered him.
Afonja's death caused the profile of Alimi, being an ally and statesmanlike priest, to swell, but revived temporarily, the spirit of unity in the nobles that were left of the empire, and wars to reclaim Ilorin were fought under the leadership of the Baale of Ogbomoso who now succeeded him as the Army chief known as Aare ona Kakanfo. All these efforts, together with the Mugbamugba war and the battle of Pomo ended in futility partly due to the scattered discontentment of the warlords against each other and the inexperience of empire soldiers in horseback fighting. It may be said that by Afonja's action, the city of Ilorin fell under the authority of new comers to the city who showed tact in their relations with the people.