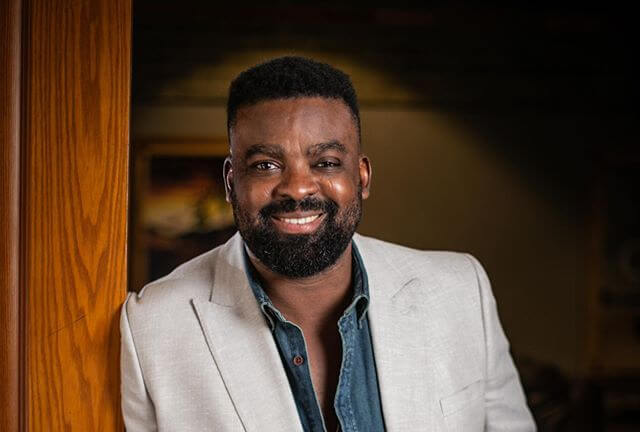 Kunle Afolayan; Nigerian Film maker who as son of his thespian father took up the gauntlet from where the elder dramatist left it, venturing after seven years as a bank staff  into the movie industry. Kunle was auditioned by Biodun Aleja and Tunde Kelani  who had worked with his father in the past, and through Mainframe Production of Saworoide where he played Aresejabata, he cut his teeth on acting. Subsequently he featured as a lead in other box-office hit movies such as Agogo Ewo, Epe, Dark glory, and Ejiworo. In Irapada, his first feature film, there was a conscious harnessing of the three major tribes in Nigeria.
In his sophomore effort, The Figurine, Kunle not only used the NYSC scheme like the first, to connect the different ethnic divides in Nigeria, he also featured the deep forest and rivers of Africa, and played up its ancestry, myths, culture, deities and art through the beliefs which he transported to the foreign land and back. Phone Swap, which was Afolayan's third used the Owerri town as plot in a more contemporary setting which nevertheless showcased the huge Nigerian subsistence farming. His fourth work, October 1 is a fictitious incident on the eve of Nigeria's independence of 1960[i].
Place of Growth
Born on the 30th September in the mid '70s to film maker, Adeyemi Afolayan (Ade Love) also called Onioladun Afolayan, Kunle he had his primary education at African Salem Primary School, Ebute-Metta, Lagos and Government Secondary School, Agbamu, Kwara State[ii].
Childhood
Kunle was often on set with his father and he could remember vividly the shooting of historical films Kadara and Ija Orogun in 1982 and 1983, being with his parents on locations. With them he enjoyed only a feeble relationship as they were on the road often making movies.
 
Education
Kunle graduated with an HND in Business Administration from the Lagos State Polytechnic. To further his ambition as a film-maker, he attended the Neio York Film Academy in United State, where he studied Digital Film Making.