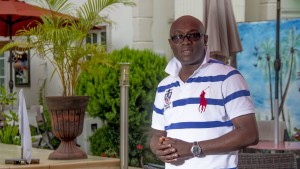 Adewale Ayuba, the popular fuji musician was born 1966 as last child into a close knit family, in Ikenne Remo Ogun State. Closing his eyes to the examples of his well-read older siblings, Ayuba prioritized music which he started at the age of seven. Soon, he got discovered by Mr. Sunday Olojuanu, a man who built his brand.
Deal with Parents
Adewale Ayuba continued music through his educational years. He attended Ansarudeen Primary School, Ikenne and Remo Secondary School Shagamu both in Ogun State, western part of Nigeria. His parents made him sign an MOU before going into music fully, promising to finish his education, and to marry one wife. He did try to fulfill his part of the deal when he acquired an Ordinary National Diploma (OND) in Ogun Polytechnic, but he deferred to focus solely on music. However this was only for a while because after he became a star, he attended Queen Burough Community College of Banking and Finance, New York and acquired an associate degree, and when he finally returned home to Nigeria, he studied Industrial Law at the University of Lagos. In keeping faith with the deal, Ayuba is married to one wife and bags a Ph.D of Arts in Music at the prestigious Bradley University, USA.
 
Album & Concerts
Slow Start
Adewale Ayuba, released his first album at age seventeen in the 1980's titiled Ibeere meaning "beginning" under the management of Sharif Aderohunmu and Success Records, but it wasn't successful. After six unsuccesful albums, Aderohunmu, Ayuba's manager suggested he quit Success records which he did and they both went on a research of how best to capture the audience, and since Sir Shina Peters was the Rave at the time they emulated his style and started a new brand of Fuji music.
 
Tipping Point
By 1990 Adewale Ayuba was signed under Sony Records (Nigeria) and in 1991 he released his first album under Sony, titled Bubble and produced by Laolu Akins, same producer for Sir Shina Peters. The album was a hit, which gave Ayuba the recognition long time deserved, it took him straight to the top and for the first time fuji music dominated the industry.
Ayuba for six consecutive months was awarded all over the country for Album of the year, song of the year, best Fuji album of the year. He released another hit song in 1992 titled Mr. Johnson, this was was also an instant success, proving Ayuba's worth. In 1993 he signed on with Premier Music (Nigeria) and embarked on his first West African tour, which was a huge success because, it led to another his United States tour that same year, he performed at different concerts like, the renowned New Orleans Jazz Festival, he perfomed so well at Rhode Island that he was awarded the key to the City by the Mayor. Ayuba's debut in Los Angeles was a success that it made the LA Weekly Magazine as C.C Smith commented that his voice, drums and costume would "remedy even a terminal case of sensory deprivation".
 
Acclaim & Awards
Adewale Ayuba returned home in 1993 to release yet another top of the chart album titled Bungle D which was a greater success than Bubble. It won him awards. In a bid to internationalize Fuji, he sojourned with his band to the UK and US, and returned in 1998 to release Acceleration, "Turn me on" 2000. In 2001 he embarked on a tour in Austria and in 2002 he did a second European tour and recorded an album he titled formula, which won him awards of Best Fuji Album of the year and Musical Excellence in Nigeria. In that same year he was named Best Artiste of the Millennium by The Music Advertisers Association of Nigeria (MAAN). In 2003 he did another tour of Europe, while on this tour, he did a joint album with a German based afro-centric group, Banthu, titled Fuji Satisfaction. He released another album in 2004 titled Ijo Fuji to wide acclaim. Adewale Ayuba changed from the Muslim faith to Christianity in 2015.