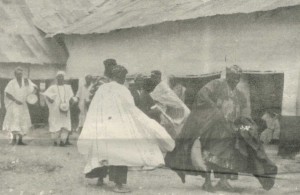 Adetoyese Laoye; Timi of Ede. Before he ascended the throne in the 1940s, he was a church organist, a great dancer, a good singer, a lover of culture, and a historian. He was so culturally minded that he turned Ede to one of the nation's cultural shrines to which people from far and near made pilgrimages. His palace became tourist haven every weekend as it played host to white men and their families who had become new converts with hot desire to learn how to use the Talking Drum. Oba Adetoyese Laoye I, had the singular honour to entertain her majesty, the Queen of England when she visited Nigeria in 1956. In 1962, he went to Germany on a cultural exchange visit to an open exhibition on Yoruba carvings by demonstrating the African talking arums.
Also in 1962, Oba Laoye went to Southern Rhodesia (now Zimbabwe) to attend a seminar on African culture where he gave a lecture on Yoruba traditional music. In 1965, He was in Great Britain to attend the Commonwealth Arts Festival with his troupes, RHATDRUM cultural troupe, where he read a paper on Yoruba music. They were later received at Buckingham palace by her majesty, the Queen of England. Also in 1965, the late king Laoye proceeded to the United States of America on a cultural visit where, as the founder of rhatdrum, he was conferred with the honour of The Red Carpet Recipient at the Blue Grass Airport at Lexington, Kentucky. Oba Laoye was commissioned as Kentucky Colonel with all rights and privileges pertaining to it. This was the highest honour that could be conferred by the states of Kentucky on any citizen.
The West Michigan University, Kalama-zoo, conferred late Timi of Ede, Oba Laoye an honorary Alumnus of the University to mark his visit to the institution, being the sponsor of his visit to United States of America and so on. Oba Laoye was a recipient of so many other honours like; Coronation medal of the Queen of England in 1951, The Queen's silver medal for chiefs in 1956, Justice of peace (J.P), in 1957, Member of British Empire (MBE) in 1963, Officer of the Federal Republic of Nigeria (OFR) in 1965, Hon B.Sc. by the Soviet Union Academy of Science in 1971, Doctor of Civil Law (DCL) University of Ife now (O.A.U) in 1972, Member, Antiquities Commission, 1963.
One of Adetoyose Laoye's legacies, drum career, is the Radio Nigeria signature tone that has been interpreted into a variety of meanings. But the original message is "This is the Nigerian Broadcasting service" The Timi of Ede was the first Christian Oba in Ede. During his lifetime, Laoye was a great drummer of distinction, travelled widely across the globe to sell the art to the international community. He was able to promote drumming and its art very widely and was accepted and acclaimed for his prowess at using the talking drum[i].
[i] The Guardian May 14, 2005